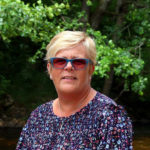 How to Downsize A Wedding Guest List
So the question to start with, is, "Who can we not get married without?".
How to Downsize A Wedding Guest List
Planning to still go ahead with your wedding in 2020.  Need some tips on downsizing your guest list?
Where do you start with the task of downsizing your guest list without upsetting anyone?
Here are some top tips that might help you with downsizing your guest list.
Who's Included on your downsized guest list?
Downsizing your guest list isn't an easy job, especially when you have already sent out your invitations and had your RSVP's back.
Not a job that any couple would ever have imagined they would need to do.
The list you drew up for your invitations included the friends and family you really wanted to be with you on your special day.
You still want them with you, but regulations are restricting our choices for weddings right now, and now you have to downsize your wedding guest list.
Try not to take this too personally. This is not a choice you wanted to make. But this is how it has to be for just now with Covid 19.
Let's take a look at how to downsize your wedding guest lists without to much stress.  How do you pick who goes or who stays? That's a tough decision to make.
What does a downsized Wedding look like in Scotland?
Firstly let's look at what's allowed right now in July 2020.
At this moment in time (11.03.2021, in Scotland), there are only 6 people allowed at a ceremony, from any number of households in total. This number has to include your Celebrant and photographer.
As the government tries to get everything back to normal for us all, albeit slowly and safely. There is no solid answer that we can give to that question right now; things change every 3 weeks.
The wedding industry is rooting for you in every way we can to bring back some kind of normality to weddings.
And perhaps depending on when your wedding is, you may not have to downsize your guest list.
How do you choose which guests to downsize?
With all the uncertainty about the number of guests you are allowed right now, it may be better to have a couple of lists.
That way, if anything changes, you have already done your homework and won't get to stressed out about downsizing your guest list as your wedding date approaches.
It may be beneficial and save confrontations if you decide on the rules of choosing who to downsize from your guests before you start reviewing the list.
For instance, you might agree that it is just immediate family.
You may even have to reduce the size of the bridal party to keep within the required numbers.
Another way to do it is to write your own lists of who is important to you to be there for the day and then compare.
That way, if there are any duplicates, you can remove them, and that gives you another place to fill.
Which guests Must Be There List
Start with this list. These people matter most to you; you couldn't imagine getting married without them by your side.
This list may take up all your numbers, but at least those that matter to you most are there. Anyone over that is a bonus.
Would be nice to be there list
This list would be the people you would love to have as part of your wedding day. The people that make you laugh and you know would help make your wedding memorable.
These might be friends of your parents or cousins you haven't seen for a long time.
If the numbers increase list
These would be people that you wanted to invite, but it's not as important that they are with you or not.  They may be work colleagues, your friend's children, or long lost school friends.
What about the oldies?
Whilst we are still taking care of the elderly in the community against the virus right now. Is it safe for your granny to be there and mixing with lots of people?
Have some of your elderly or venerable family been shielding?  Do you want them to be mixing with a small crowd?
You may actually find that the oldies don't mind being uninvited. They may be worried about socialising but don't want to upset you by declining.
Overseas wedding guests lists
You may not have to un-invite these guests if you have any coming.
The isolation rules in place right now mean they have to self-isolate for 2 weeks on arrival into the UK, so that would make for an expensive trip for a wedding. So again, this group may not even need to be uninvited.
Communications
Now to do the hard bit.  How do you tell your guests that you have to downsize your guest list and they can't attend?
You will find that just about every single person understands that this is not your decision if you have chosen to go ahead with the original date.
Everyone listens to the news, so your communications with them about downsizing the guest list is not going to come as a surprise.
Just be honest with people, do it in person or on the phone if you can, rather than by email or messenger. Using email or text is less personable.
Let them know that this hasn't been an easy decision for you to make as a couple.
What about doing a little video explaining it all and sending that to everyone? That might be fun to do and very personal.
Small outdoor weddings
Don't think that a smaller wedding is any less magical than your big day. Celebrants will do what we normally do to make sure that your wedding day is as magical and memorable as it can be.
There is a lot of magic to a smaller wedding. They are more relaxed and more personal. You get to spend one to one time with your wedding guests, much more than a larger wedding.
There is also less stress organising a smaller wedding. With the added bonus of being much cheaper.
But with mass gatherings being off the menu for a while to come yet, it is the only option you have if you want to keep your wedding date—a much safer option.
Small and outdoor weddings will become the norm now, with fewer guests allowed and with venues restricted to what they can do.
Zoom Weddings
Another option to consider is having your 20 guests at your wedding, but using zoom, or web links, to invite other guests to come to join you.
Many Celebrants are doing this kind of ceremony for couples during lockdown.
An email link is sent to the guests for an allotted time; they join the link and can see your ceremony taking place as it happens.
Another possible option for you to consider is having a party a 1st-anniversary party when life is back to normal, and then, of course, everyone will be invited.
Hopefully, these tips on downsizing your guest list will help ease the stress of how to do it.
If you have any questions about a smaller wedding or a zoom wedding, please don't hesitate to contact me.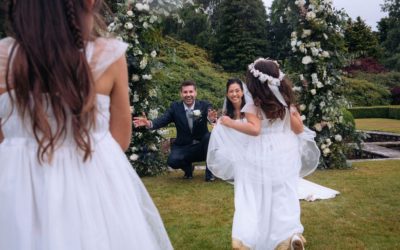 Liz and Matthew Wie WeddingWhen America meets Scotland for Liz and Matthew Wie Family wedding. A beautiful personalised family celebration.Who got married? Liz and Matthew Wie. The venue for their wedding ceremony was the stunning Gordon Castle in Fochabers. On the...