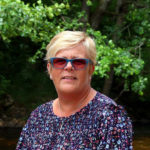 Liz and Matthew Wie Wedding
When America meets Scotland for Liz and Matthew Wie Family wedding. A beautiful personalised family celebration.
Who got married? Liz and Matthew Wie.
The venue for their wedding ceremony was the stunning Gordon Castle in Fochabers.
On the 2nd July 2022
I was referred to Liz and Matthew by a colleague who wasn't able to do their ceremony.
And at the time, I was unsure if I would be able to do it as I had one month to get to know Liz and Matthew, but try my best I would.
Liz and I had a quick zoom call so that she could meet me and see if I was the right celebrant for them, we got on famously, and the wedding was in my diary.
Until then, I've always had a good six months to meet with my couples, get to know them and create their script.
This one was different. I usually have many face-to-face meetings with my couples as I get to know them.
We had to do our meetings over zoom, so I would email questions to Liz, and she would answer them; then we would talk on zoom if I needed anything clarified.
And in case you're wondering, I did it, got everything I needed and created the ceremony in time for their wedding on 2nd July 2022.
Liz and Matthews Venue
Gordon Castle is a stunning location for a wedding ceremony, with plenty of places for your wedding photos to.
The castle is nestled in a private estate on the River Spey in Moray. The venue can accommodate wedding parties from as little as 20 guests to up to 250.
For an indoor ceremonies the Orangery can hold up to 60 guests and is stunning, a perfect place to hold your wedding reception dinner as well.
Are you marrying a fisherman?  You can choose to have your ceremony In the Castles fishing hut on the River Spey.
There is also a stunning walled garden to.
The garden outside the Orangery is another perfect spot for an outdoor wedding ceremony which is where Liz and Matthew had planned on having their ceremony.
If you're looking for a wedding venue in the Moray area, pop over and take a look at their website here and give Kyra a shout she was amazing.
Meeting the Wies' in the flesh

.
Matthew, Liz, and the girls arrived in Lossiemouth a week before the wedding, so I took a wee jaunt up to Gordon Castle to meet them four days before the wedding.
I got to meet and gel with the girls, and Kyra showed us around the various areas in the castle we would be using.
And we talked over the timings, etc., so that everyone knew where they needed to be and at what time.
The meeting with Audrey and Ella was funny; Audrey asked if I was a Nana or a mummy.
We talked about the colour our nails were going to be for the ceremony, and they showed me the book that Ella was going to do a reading from.
Liz and Matthews Outdoor Wedding
During our talks on zoom and email, I had asked Liz if she had a wet weather plan, "do we need one?" she asked, umm, that'll be a yes, just in case I said.
The wedding ceremony was to take place outside the castle in the garden beside the pool; it was a beautiful spot. 
We had all been watching the weather app to see what the forecast was, and every so often, the vendors would get a wee email from Liz saying we might bring the ceremony forward to miss the rain, then the next one would say, oh, it's okay it's 4 pm.
The heavens opened when I arrived at the castle, which is usually an hour before the ceremony. 
Kyra and her team at Gordon Castle held on as long as we could before we decided if we needed to move the ceremony indoors or not, as Liz wanted her ceremony in the garden.
But the weather gods thought differently, and we had to move everything indoors.  
Which actually was lovely. The main hall in the castle sat all the guests beautifully so everyone could see and hear everything.
The Wie Wedding Spec
Liz and Matthew's wedding ceremony was about joining together as a family.  
They have two beautiful little girls, Ella and Audrey, who also participated in the ceremony, but I'll tell you about that shortly.  
The couple has been together for ten years but felt it was the right time to get married.
Their vision for their ceremony was to keep it short and sweet but meaningful enough to represent one of their most important days.
The day was as much about a family reunion as it was a marriage.
Because of covid, they hadn't seen some of their family for a couple of years. And they had family coming from across the globe to attend the wedding.
Their day was about celebrating all kinds of love.
The love of parents for their children, 

the love between brothers and sisters,

the love of family and friends, 
and the Love of Liz and Matthew
So their wedding day was about reconnecting with their family and celebrating getting married.
Something that made my heart sing was seeing Matthews's 96-year-old granny at the ceremony.
 She was such a lovely lady and had memories of being in Gordon Castle when she was PA to a head teacher in her past.
Liz and Matthews Day
So their wedding day was about reconnecting with their family and celebrating getting married.
 Something that made my heart sing was seeing Matthews's 96-year-old granny at the ceremony.
 She was such a lovely lady and had memories of being in Gordon Castle when she was PA to a head teacher in her past.
The Legals
Liz and Matthew live in Philadelphia and do the legalities differently from how we do it here.
They can get married in their sitting room with two witnesses, then take the paperwork to the town hall and file it; how easy is that?
 So they had the legalities done before they arrived in the UK.
The wedding photos
We had the lovely Alison White from https://www.alisonwhitephotography.co.uk/ taking the couple's photos. 
 And also, Jason from Poppycock Weddings – http://poppycockweddings.co.uk/ there  taking a video of the ceremony. 
 I was pooping myself at the thought of being on video, but I'll share the link to look at their ceremony later. 
Alison and Jason caught the whole feels of the day perfectly for the couple.
Ella's Reading
Liz wanted Ella, their eldest daughter, to do a reading at the ceremony, and it was a few lines from the girl's favourite book, Love you to the moon and back.
 I love our time together as we start each happy day.
 I love our bathtime silliness. The way we splash and play!
 I love to lift you way up high so you feel really tall!
 We'll climb the highest mountain tops. Hold tight, and you won't fall….
 I love you to the moon and stars, my precious little one.
She practised hard for a few months before the wedding, but up until the last minute, we didn't know if she would do the reading, but she did, much to the delight of mum and dad and all the family, and she did so well.
Out of the mouths of babes
While creating the ceremony script, Liz had sent some details about the girls, a bit about their personalities and likes, which I built into the script for them.
 While I was reading out the bits we had chosen to include in the ceremony about the girls, Audrey decided that she had changed her mind and didn't hesitate to let me know, which was hilarious.
 Mum had told me she liked Purple, "No, I don't", she shouted out, "I like Purple now", it was so funny.
 And when we arrived at the part of the ceremony where Liz and Matthew were to exchange rings, little Audrey piped up, "Mummy, I need the potty" we were in stitches again.
 One of Matthews's family got up and took her to the toilet, Liz thought we should continue with the ceremony, but I waited till Audrey got back into her seat, and then we continued.  
 See, you can do those things at a celebrant ceremony.
A Wie family Hand-Fasting
Our couple had firm family values, and we were going to include these in their hand-fasting ritual
Kindness – be kind to everyone and everything.
Tenacity – Finishing what you started, never give up or stop trying,
 Listening – Taking the time to listen correctly to each other,
 Staying healthy, which ultimately allows them to work, rest and play
Liz had brought a unique ribbon with them to use in the handfasting; it was lace embroidered with Love You To The Moon And Back over it. A memorable keepsake from their wedding day.
The girls were to be part of the handfasting, tying all four hands together.
Using more than two hands in the handfasting means you have to figure out a way to tie the knot, as four hands can't pull the knot as you can with the couple's only hands.
So I wound the ribbon around the four hands and tied knots underneath them, a knot for each family value they have.
The knots
A knot for kindness
may you know it and show it throughout your lives together
A knot for tenacity
may you always finish what you started and never give up or stop trying.
A knot for listening
May you always hear what each other needs
A knot for health

eat lightly, breathe deeply,
live moderately, cultivate cheerfulness,
and maintain an interest in life.
We ended the handfasting by reading The Blessing of the Hands whilst they were still tied together.

Exchanging of rings
Then came the ring Exchange.
Matthew put Liz's ring on her finger, no problem, but when we came for Liz to give Matthew his, we were in fits of giggles; she couldn't get the ring over his knuckle but managed it eventually, only to discover later that she had put it on the wrong hand.  
 I hadn't said anything as I thought it might be an American thing where he wore in on the right hand.
They used a lovely vow to each other as they exchanged rings, which they repeated after me. 
 No matter what the future brings,

the rings we now exchange 

will be a constant reminder 

of the promises we have witnessed here today.
I always encourage my couples to kiss at this part of the ceremony, so I did with Liz and Matthew, and they willingly obliged.  
With Ella shouting, "kiss her again, daddy", don't you love how kids say what they want when they want? Matthew took his instructions well and gave Liz another kiss.
I ended the ceremony by introducing the Wie family to all their friends and family.
It was a lovely, very intimate ceremony, even though Liz and Mathew had both told me they weren't romantics.
Their wedding was done the Wie romantic way.
I am so impressed you were able to come through for us on such short notice.

The service was wonderful and despite the rain, everyone remarked how intimate the ceremony was and unlike any other.

Thanks again for all your help and patience.

Liz and Matthew – july 2nd 2022
If you want to learn more about how I personalise a ceremony, check out the blog here. 
I loved doing this wedding and learnt that I could do the tight turnaround.
Liz, Matthew and all of their family were wonderful, and it was lovely to see them all gathered together to celebrate love.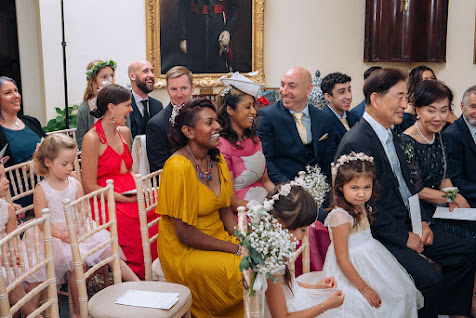 Having that wow factor will come from small meaningful details. If your wedding is a personalised reflection of you and your fiance your guests will remember it for years to come.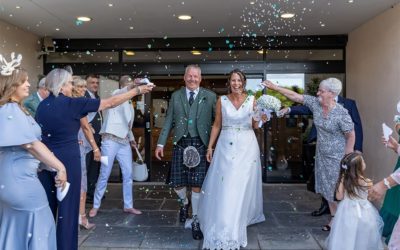 Kerry and Steven Walker WeddingMarriage occurs in your hearts. It grows out of loving, caring, and sharing yourselves with each other.Who got married Kerry McKay and Steven Walker Where did they get married – Altens Thistle hotel Aberdeen Photographer – David @...