How Does A Celebrant Personalise Your Ceremony?
there is a way to have a perfect personalised ceremony… and that's your way.
I am often asked how does a Celebrant personalise a Wedding Ceremony and why should I choose to use a Celebrant.
As a Celebrant, I have that little bit of magic in my heart that enables me to build a relationship of trust and confidence with my clients.
Our relationship grows into a place where creating your personal Wedding Ceremony comes naturally, which is what makes each Ceremony unique and personal.
As the relationship grows, it allows me to have a special insight into your lives. I learn about your sense of humour, your personality and your story.  Any special memories the couple have also help to build their unique and personalised Wedding Ceremony.
And that is how I personalise your Ceremony.
Why use a Celebrant?
Using a Celebrant for your Wedding Ceremony means you get a personalised Ceremony unique to you.
A ceremony can be held in any location you desire and has no restrictions, which helps with personalising your Wedding Ceremony exactly the way you want it to be.
No two ceremonies are ever the same. We follow no formula.
There are no set words, or readings, that have to be included.  This is all about what you want out of your day.
A perfect recipe for a celebrant to personalise your ceremony.
A lovely blank canvas to create your Ceremony.
Getting to know you personally.
If you ask me to conduct your wedding ceremony I will want to listen to you and hear your story.
I will want to understand as much about you as possible so that I can relate all about your love for each other back to your guests on the day.
Having this information from you both enables me to personalise the ceremony the way you want.
Our first meeting would be either in person or over Skype/Zoom etc.
Once you have confirmed your Ceremony date with me, we have our first detailed meeting at least 6 months before your Ceremony date. This enables me to start collating your story and understanding your vision for your special day.
These meetings are relaxed and fun and allow you to reflect on your journey together so far. I will ask about how you met, the proposal, your family, and any hobbies you have.
A Celebrant will ask many questions to be able to create your story properly. These details are what help me to create very individual personalised Ceremonies for each couple.
I listen to what is important to you both and what you want for your special day.
Using Symbolic Rituals
Using Symbolic Rituals is a gorgeous way to personalise your ceremony.
On the Symbolics Rituals page you will find various symbolic rituals ceremonies that can be used to enhance your ceremony.
Symbolic Rituals such as Hand fasting, Sand Ceremony, Tree Planting Ceremony, Unity candles, Jumping the Broom and Oathing Stone can also be included in your Ceremony. There are so many to choose from, and a Celebrant can talk you through other available options.
Symbolic Rituals are a magical way to include your family and friends in the Ceremony as well.
If there is a particular cultural or family tradition that you want to include in your ceremony, that is okay too; everything is do-able in a Celebrant led Wedding Ceremony.
Your Personalised Ceremony
Your wedding day entails many details that you have both worked hard to pull together so that everyone enjoys your day.
The Ceremony part of your wedding day is all about you as a couple and should reflect your story of how you came together, your journey along the way, your personalities and capture your hopes for the future together.
There are no rules for a Celebrant led Ceremony. I will create a Ceremony that totally reflects you both.
If you don't want to include something, we can leave it out.
Can we have our dog at the Ceremony? You most certainly can.
Having a themed Wedding Ceremony? That isn't a problem either.  I might even dress in the theme for the Ceremony.
There are no set times to have your Ceremony; it can be at any time of day or night, in any location that you want.
Personalised Vows
Vows are another area that is very personalised in your ceremony.
Some couples like to write their own vows to each other; some do not feel comfortable doing them.
A Celebrant is also there to help you with this part of your Ceremony.
The time we spend together getting to know each other can give me an insight into you both, which will enable me to help you write something truly fitting for your vows.
Script Approvals
A Celebrant will personalise your ceremony script to reflect your love story to family and friends.
As I write your scripts, you will be sent copies to review.
The first draft is for us both to check that I have collated the important details right.
As I get to know you better through coffee dates, emails, or zoom calls, I would add more to the story. As I update the scripts, I would send them to you both for approval.
We can change or tweak them as many times as necessary until it's perfect for you, and once perfected I will use this to deliver your Ceremony. This will be about a month before your ceremony and once the final payments are complete.
Including friends and family in a personalised ceremony
Blending the sands Ceremony. Do you want to include some of your friends or family at the Ceremony? There are opportunities to do that with readings, poems or even in a Symbolic Action.
I would also work with the person(s) doing the reading(s) to make sure they are comfortable delivering them.
I can even provide you with readings if you don't already have any.
The Legal Part
Just because a  Celebrant led Ceremony does not include legal recognition does not mean it is any less special.
The legal part of your wedding would take place in the Registry office, before your actual Ceremony date.
You can complete the legal side anytime from 3 months to 3 weeks before your ceremony by completing and submitting your M10 forms. You can find the forms here.
It is a straightforward process, and you don't even have to dress up for it, exchange rings or vows.
You sign the contract with the Registrar, along with your 2 witnesses, then look forward to celebrating with your family and friends in your personalised Ceremony.
A lot of people ask, "but why have 2 parts to your wedding"?
If you consider births and deaths, your baby isn't born and christened on the same day, and your death isn't recorded on the same day. Each of these happens separately, so why not do the same for your Wedding.
Rehearsals
I always recommend rehearsals for a Ceremony, which are part of my services. I personally think that they are a good thing to do.
The wedding party would then know what to expect, where they are to sit or stand, who is doing what when. Which takes away some of the stress on the actual day.
With a rehearsal, everyone knows what they are supposed to be doing, then it all runs to plan on the day.
On the Day
I will work with your other vendors on the day to make sure that everyone understands the Celebrants part of your wedding and ensure that we are all primed to flow well together.
For instance, making sure that the music is played in the right places that you have chosen.  It also lets the waiting staff know what to look out for as we reach the end of the Ceremony.
This allows them to have everything in place so that your guests have their drinks whilst you have your photographs taken.
These are some of the ways a celebrant personalises your ceremony, but there are too many to note here.  
We can personalise anything you choose for your wedding, have you got something you want to include but not sure you can? 
Let's grab a coffee and chat through the options of how a celebrant can personalise your ceremony to suit you.
Each ceremony that I write brings me great joy. It is like fitting all the pieces of your jigsaw together for all to see at your Ceremony.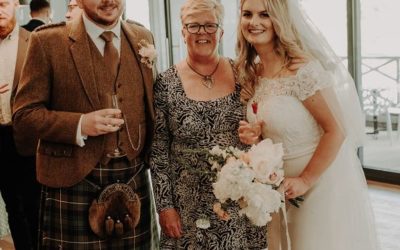 Anna and Scott Salter's WeddingA special day for a special couple who wanted the freedom to be who they are in their ceremony.Who got married - Anna Johnston and Scott Salter Hazel Head park café was the setting for this May couple, 25th May to be exact, a day filled...