What ceremonies are available for couples?
Today there are many ceremony options for couples of any faith or gender with an Independent Celebrant.
There are various celebrant-led ceremonies that couples can choose from to show their commitment to each other in a way that appeals to them. 
Not every couple wants a legal wedding. And not every couple wants a traditional wedding.
And that's where an Independent celebrant comes in.
With a Celebrant led ceremony, you can choose exactly how you celebrate your commitment to each other, be that with a Wedding Ceremony, Vow Renewal or a Commitment ceremony.
What is a 'celebrant led' wedding ceremony?
A celebrant led wedding ceremony is all about freedom.
Freedom to:-
choose the location
what you say and how you say it
include religion or spirituality
In fact, you have the freedom to choose to do anything you want with a celebrant led wedding.
If you dream of getting married under the stars, or in a Glen in Scotland, with fewer formalities than in a traditional wedding ceremony, then hiring a wedding celebrant could be your answer.
Weddings with a celebrant are not old fashioned or boring.
They are full of love, laughter and your story.
An AWESOME celebration that cares less about following outdated traditions and more about reflecting you as a couple.
Where you and your partner are the focus of the day.
A Wedding Ceremony with a Celebrant is not legally binding, but the legal bit is easy and I can help you with that to.
A registry office wedding can often be very formal and impersonal.
And if you don't do formal and impersonal, do you know what other options you have?
What about having a Celebrant led wedding ceremony instead?
Working with a Celebrant for your wedding ceremony gives you total freedom to have your wedding ceremony anywhere you choose, at any time of day or night.
Imagine marrying your partner on the shores of a beautiful beach, with the moon shining down on you; well, that's a dream you can fulfil with a Celebrant led wedding ceremony.
Celebrants can include everything, from religion to readings, vows, music and even Symbolic Rituals such as The Oathing Stone.
There is nothing you can't include in your wedding ceremony with a Celebrant.
Even your pets are welcome.
Celebrant led wedding ceremonies DO NOT include the legal registration of your marriage.
At this moment in time this still has to be done with your local registry office.
It's pretty simple though; you have a quick appointment with the registrar who covers the legal side of marriage, sign the register and off you go.
The legal part of a wedding can be done before, or after your ceremony with me.
Or you can choose to do the legalities after your wedding ceremony with an Independent Celebrant, either option is fine.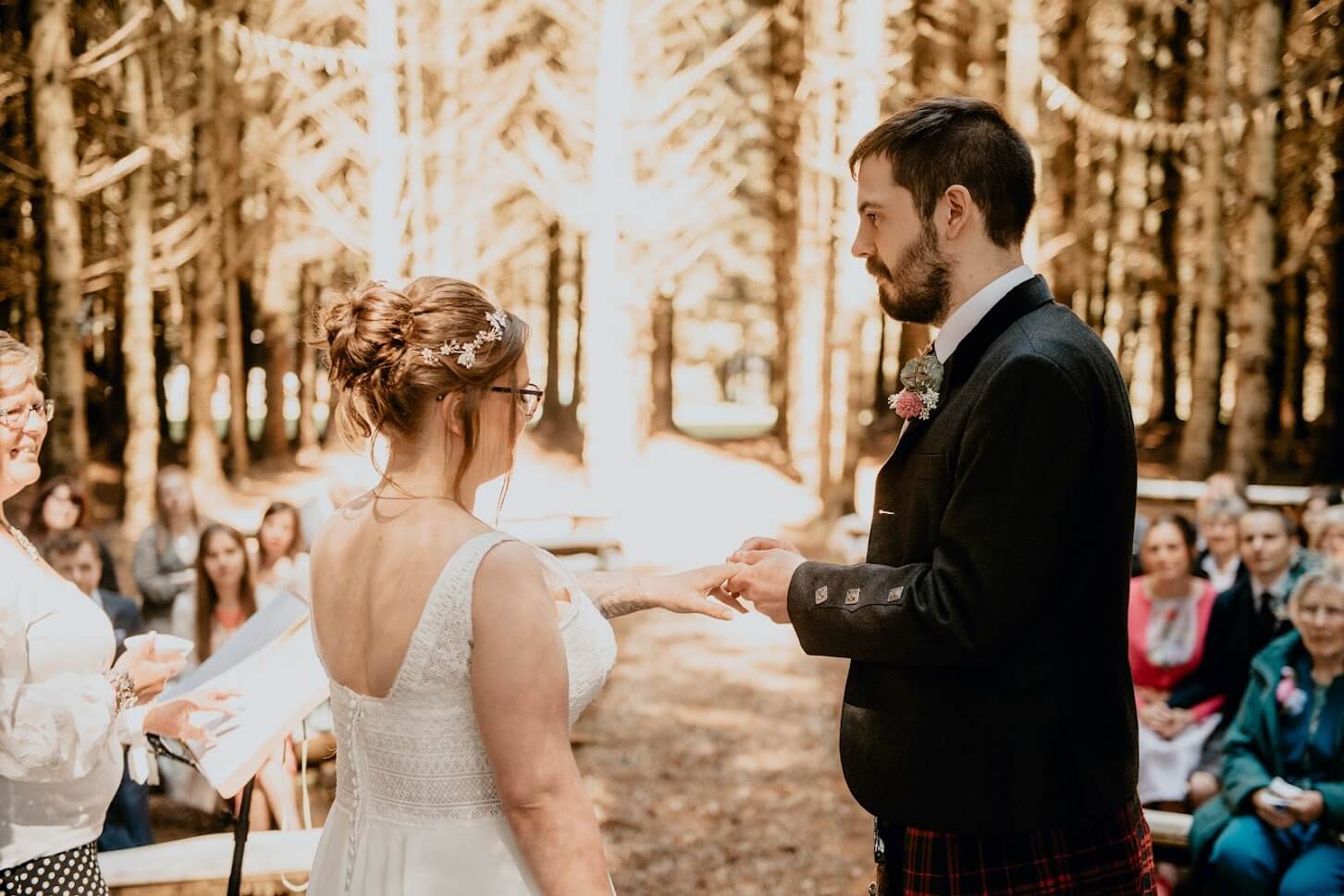 What is a Commitment Ceremony?
Are you put off by a wedding's legalities but still want to show your commitment to your partner?
A Commitment Ceremony is a very personal choice for couples and maybe just the thing you're looking for to celebrate your commitment to each other, without all the trimmings.
You can commit to each other without any legal rights or responsibilities in a Commitment Ceremony.
Yet still include the same options you have in a wedding ceremony, vows, readings, exchanging of rings etc., but your Ceremony isn't legally binding, and your marital status does not change.
Choosing an independent celebrant to create your Commitment Ceremony would be a perfect choice.
?ow was your wedding ceremony?  So good you want to do it over again?
Or were you unable to have the day you really wanted the first time around?
Well, a Celebrant has just the answer.
Why not have a Vow Renewal Ceremony?
A Vow Renewal Ceremony is where you get to say I do all over again.
Want to  re-affirm marriage vows, demonstrating the strength of your love and commitment to each other?  A Vow Renewal Ceremony can let you do that.
Are you celebrating a special anniversary or a life-changing event? Why not have a Vow Renewal Ceremony?
Here are some reasons you might want to have a Vow Renewal Ceremony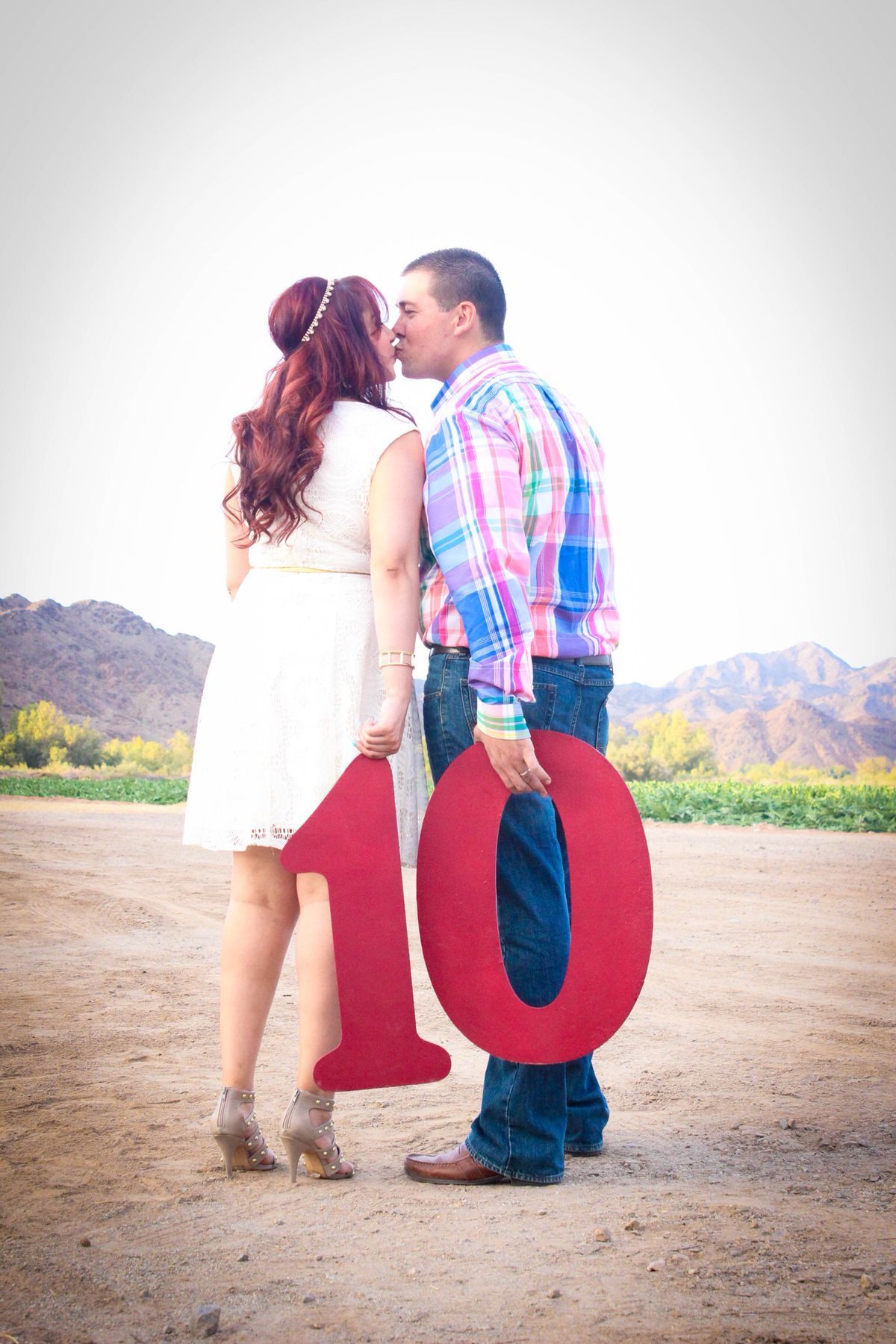 'Mary is a warm and emphatic person, she made us feel confident from our first contact. We weren't sure exactly what we could expect from a celebrant, but she guided us through the process brilliantly and really understood what we wanted for our special day.
She has a lovely manner and all our guests felt that she created a wedding ceremony that captured us to the tee. We couldn't have chosen a better celebrant. Thank you Mary."
Using an Independent Celebrant for any of the couple's ceremonies gives you much more choice as to what is included in your Ceremony.
Much more than a traditional wedding or a Registry Office Wedding.
You don't have to settle for an off the shelf Ceremony anymore.
Each Ceremony is created by a Celebrant to reflect you. Your individuality, your passions and your beliefs.
Getting to know you both allows a Celebrant to capture the essence of who you are as a couple and reflect that back to your friends and family.
What's different about a Celebrant led Wedding?
Well, its a fabulous, personalised, unique, unboring and bespoke wedding ceremony, created by a celebrant for amazing, bold, break the rules kind of couples.
We are here so that you can celebrate your love story anywhere you want, how you want and with whom you want.
Freedom to focus on your love, not on the legalities, how exciting is that?
Modern weddings ceremonies are not old-fashioned or boring, they are full of love, laughter and your story.
Celebrants have no set rules or restrictions; we can prepare meaningful vows, choose readings, poems and songs which are personal and significant to you both.
Understanding your story gives me the magic to create a wedding ceremony that is full of significance and matches your beliefs.
During our journey together, I make sure that your wedding ceremony is unique to you; full of your emotions, dreams but more importantly your beliefs and values.
A wedding ceremony that includes your personality, style and vibe.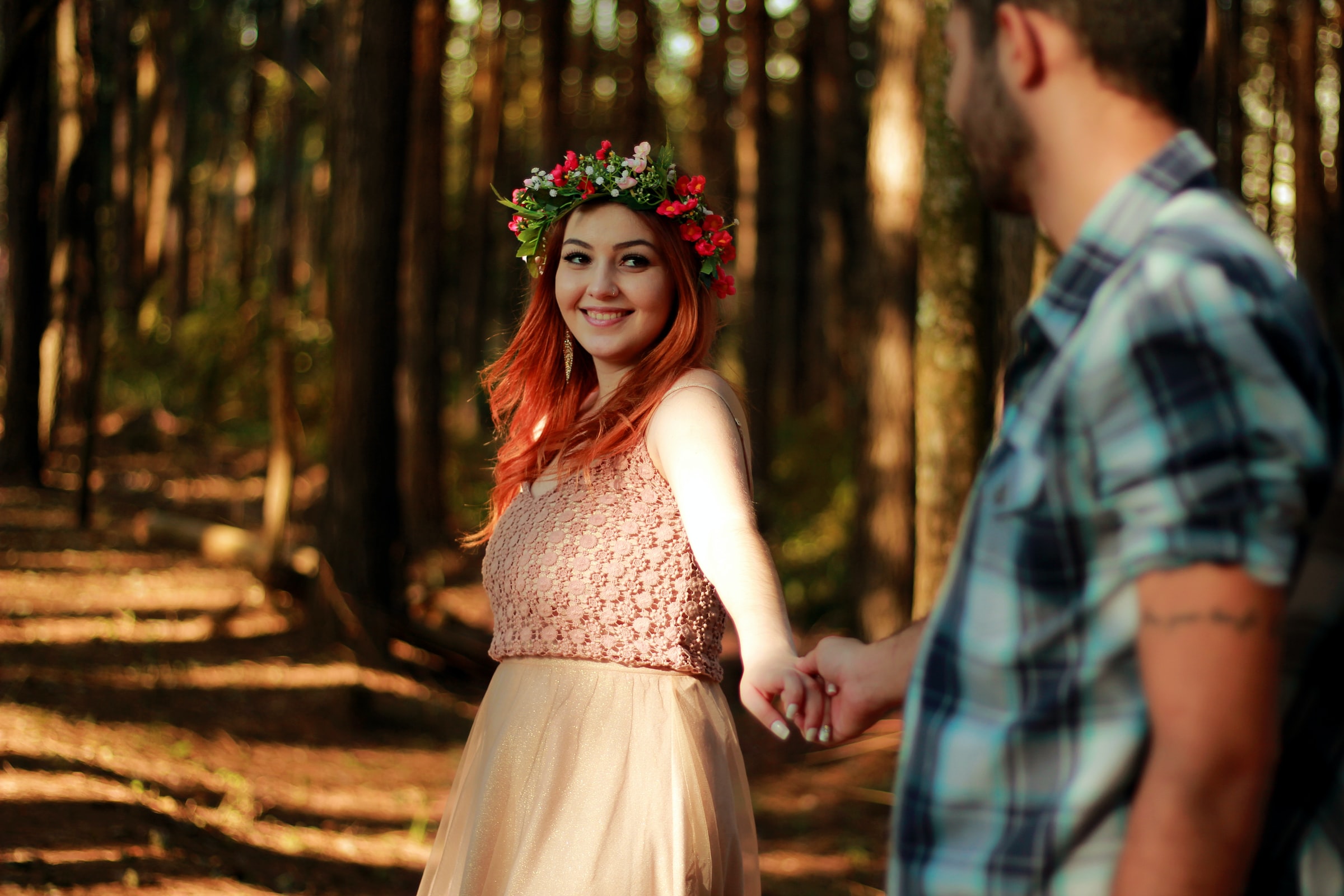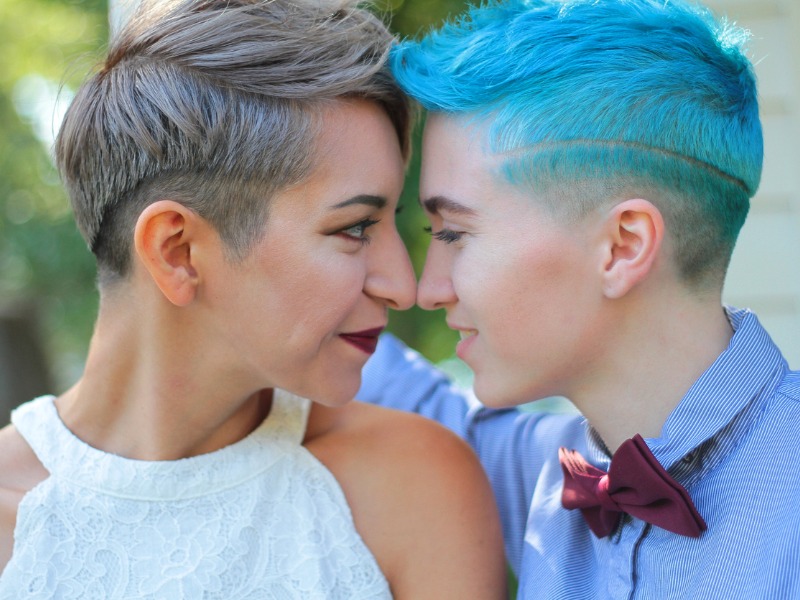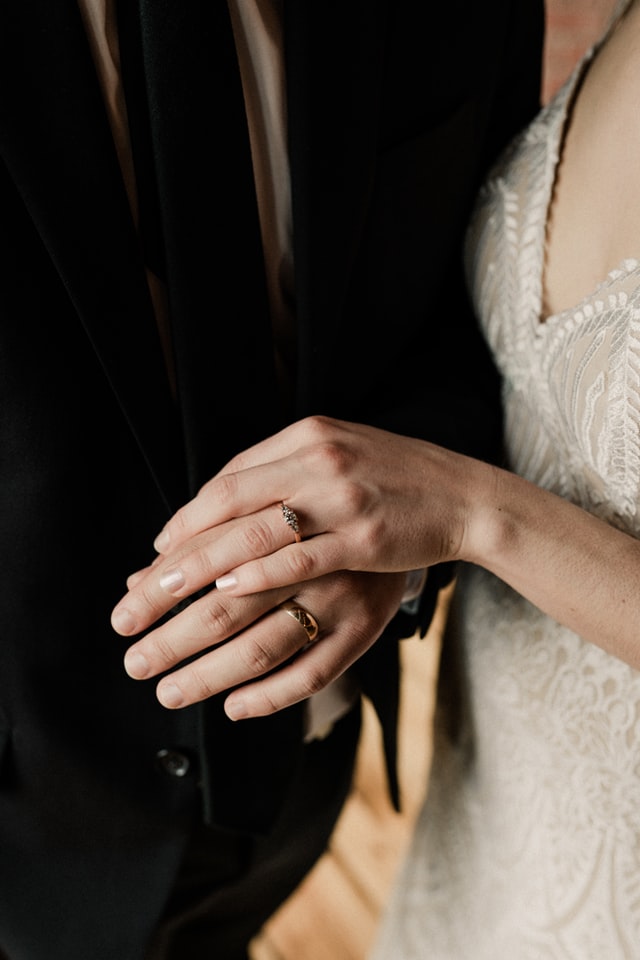 What about the
Legal Bits?
Celebrant led weddings are separate from the legal signing of the register. 
Completing the legal side is pretty simple, so don't worry.
It's usually a straightforward and affordable process to become 'legally' married.
You can find more information here on getting legally married in Aberdeen. 
A Celebrant led ceremony concentrates on the 'wedding' part of your marriage.  
Did you know that a wedding and a marriage are two different things?
The Wedding is the Celebration that we are creating for your big day, and the Marriage is the legal part.
So if you think about births and deaths, for instance, you don't register your baby the day it is born. Or register a death the day it happens.
Celebrant led weddings are the same; you register your marriage and sign the legal documents with the registrar before or after your Ceremony.
Doing the Ceremony and legal bit separately means you are free to have your Wedding Any Time, Any Place, and Unique to you. 
Because you have so much freedom with a Celebrant Ceremony, couples are now booking weddings ceremonies in their gardens, forests, and mountains; in fact, they have their Ceremonies in any location they want. 
How cool is that!
You'll want to read these…
grab a coffee and your wedding planning notebook before settling down to find wedding inspiration and information from the celebrant angel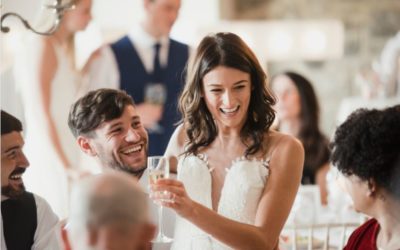 Wedding Day Games Why not have some fun and laughter on your wedding day with some wedding games. Wedding Day Games The pandemic in 2020/2021 has brought some incredible changes in weddings. We have seen a demise in the more formal type of weddings for many...
Get in Touch
Whether you want to call, email or fill out a form - it's all here...
My Location
Westhilll, Aberdeen. AB32 6QX