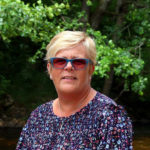 At the end of the day, the only thing that matters about your wedding day is that you celebrate it the way that feels right for you.
What Is A Ceremini?
Want to be in with the in-crowd? Then have a Ceremini.
The pandemic in 2020/21 has changed the way a lot of wedding ceremonies are happening.
The pandemic has made smaller weddings a lot more popular initially because that was all we could have if we wanted to marry in 2020 and during the first half of 2021.
And of the many brides that went ahead with a small ceremony during the pandemic, they all said they had a fantastic day; it was a lot more intimate, loads less stress and was the best choice they could have made.
We had a small intimate ceremony today, got fed up wiating for covid rules to change, and can say it was the best day of our lifes. The people we care about the most made our day so special, we had time to speak to everyone,and Mary made our ceremony so personal we even cried.  I would definetly recommend having a Ceremini.
But, there will always be two types of wedding couples, I think.
Those couples who like the more lavish ceremony, with all the trimmings.
And those that don't.
But at the end of the day, the only thing that matters is that you celebrate the way that feels right for you.
But…..
What about having a
Ceremini
 like Ariana Grande or Princess Beatrice?
 If the famous are moving away for the bigger weddings, why not us mere mortals.
What is a Ceremini?
A Ceremini is a small intimate wedding ceremony with up to 30 people, those special people in your life that you handpick to help you celebrate your love for each other.
Some would say a more personal and intimate wedding ceremony than a traditional ceremony.
A day that's about you as a couple rather than your guests.
Why have a Ceremini?
 A Ceremini can give you all the feels of a larger wedding – without a lot of the hassle of planning and trying to please everyone.
There are also lots of saving to be had by having a Ceremini. 
Here are just a few.
Your Venue
Because a ceremini has fewer guests, there are so many more venues to choose from for your wedding.   
You get to choose a smaller, more intimate venue that you couldn't use if you had a larger traditional wedding. 
Do you have a favourite restaurant that you love to eat in? Imagine hiring that out for only you and your ceremini guests.
Or a favourite picnic spot. Or even a secluded spot on a beach that has memories for you both.
This is where a ceremini comes into its own.
Do you have a favourite spot that you would use for your ceremini?
A smaller venue means less money is needed to decorate the space, so you could splash out on those extra special touches you wanted for your decor.
There is also the added bonus of no stressing out about seating plans with a ceremini.
This is one area when planning a traditional wedding that causes couples a lot of grief.
For instance, who sits beside Aunty Jeannie when she could argue her way out of a paper bag.
 If you're having a Ceremini, you don't have that worry because you choose the "special" people that matter to you to attend. 
Smaller groups mean you can seat your guests closer together, meaning everyone gets to hear the craic during the day (always following social distancing rules in place at that time, obviously).
 And with a smaller group, you don't have to spread yourself out thin during the day to see to everyone; they are all seated around you, you can chat across the table. 
Savings
The cost of larger weddings seems to rise every year, with an estimated £30,000 (if not more) that couples spend on a traditional wedding day.
So by having a ceremini, there are lots of areas you can save on your budget, giving you a few more options of where to put some more money into for your ceremini day.
For example, you save on. 
Wedding Menu
Having fewer guests at a ceremini means, you could go that extra mile with your menu, making it extra special for your chosen guests.
Your wedding

dress

What about putting some of the extra money you can save on a ceremini into the dress of your dreams.

Or an extra-special piece of jewellery to go with your outfit or dress, something you will have to keep forever.
 Photographer
Have you got a favourite photographer who is a bit out of your price range?
Having a Ceremini would leave you a bit more money to hire the photographer you want.
Wedding Cake
What about doing something different for your wedding cake?
If you're having a ceremini, you could opt for mini cakes, perhaps individual mini wedding cakes for everyone. 
How cool would that be getting your own wee wedding cake at a reception?
There is a fair amount of money to be saved by having a Ceremini, and you can choose to put the money into making your ceremini that extra bit special or..
You could bank the money and save it for a rainy day, or a lovely honeymoon once we are allowed to travel again.
A ceremini is about being relaxed and enjoying your wedding day, rather than tending to guests you haven't seen for years.
With a ceremini, you are less stressed in the lead up to the wedding day.
I'd say that was a huge bonus after hearing about some of the stress many couples suffer whilst planning their wedding day.
There are lots of positives for a ceremini, wouldn't you say?
If you would like to find out a bit more about creating your own ceremini then please contact me here.
"Cereminis afford a lot more flexibility and they're easier on the budget, and so much fun"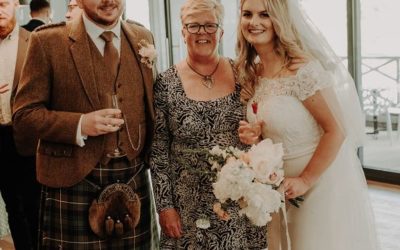 Anna and Scott Salter's WeddingA special day for a special couple who wanted the freedom to be who they are in their ceremony.Who got married - Anna Johnston and Scott Salter Hazel Head park café was the setting for this May couple, 25th May to be exact, a day filled...