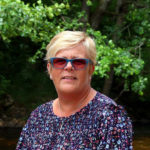 7 Alternative Guest Book Ideas
Alternative wedding guest books can be so much more than just a collection of your guests' signatures.
7 Alternative Guest Book Ideas
A guest book at a wedding used to be the norm. But like many other wedding traditions, the good old fashioned wedding guest book seems to have taken on a new look.
A wedding guest book is used to capture signatures and well wishes from your guests.
But how many of you already married have your guest book on display?
I hazardous a guess not very many.
Why not do something different?
Original wedding guest books lay around for a little while after the wedding, then were put away in a safe place, never to see the light of day again.
So how about looking at alternative guest book options to capture your guest's signatures and well wishes.
There are some fantastic options to capture those memories now—things you can display in your home long after the wedding.
Options that allow your guests to be creative too.
Let me show you some alternative guest book ideas that might spark your creative flair for your own wedding guest book.
Wedding Guest Quilt.
Are you the arty-crafty type of person and love a bit of quilting?
What about having a wedding guest book quilt?
There are a couple of ways to do this one.
Firstly, why not ask each of your guests to bring a square of material with them (in the quilting world, this is what they call a fat square).
Tell them your colour theme, and let them choose a fat square that matches your palate.
It will be an actual patchwork quilt if they all choose their own square, but that can be fun too.
Get them to write their names and any wishes onto the fat square.
They would then take them along with them to the reception.
On the day, have a nice container, perhaps engraved with your names and wedding date on it, and get your guests to pop their squares into the container.
Once the wedding is over, find yourself a quilter (if you don't quilt yourself) and have a quilt made with the fat squares provided by your guests.
Get ahead
Another option might be to have the front of a quilt made before your wedding day.
Choose your colours and or patterns and have them sewen together.  What about using colours you have chosen for your home together?
It might be best to keep it pretty plain so that the guests have space to write on the squares.
Quilts come in layers when they are complete, but you only need the front layer for this part.
Get your venue to hang the quilt up on a wall.
Your guests can then choose a square and leave their names and wishes.
Imagine sitting under this wedding guest book, keeping cosy on winter nights, watching Netflix, and being reminded of your friends and family too.
Quilts tend to have a habit of being passed down in families, so yours could be around for a long time to come.
I like this option as it has a purpose after the ceremony rather than being put away out of sight.
And it doesn't gather dust either!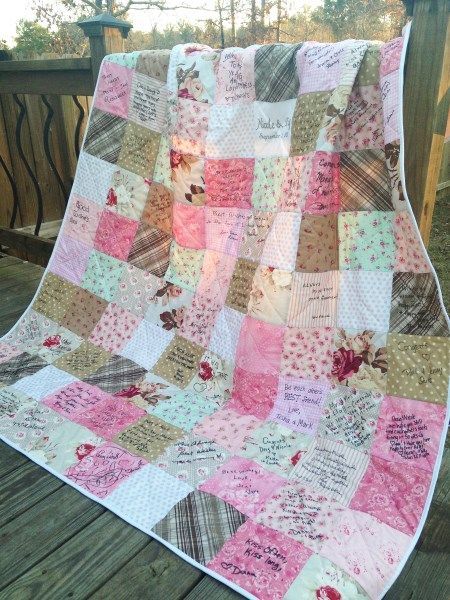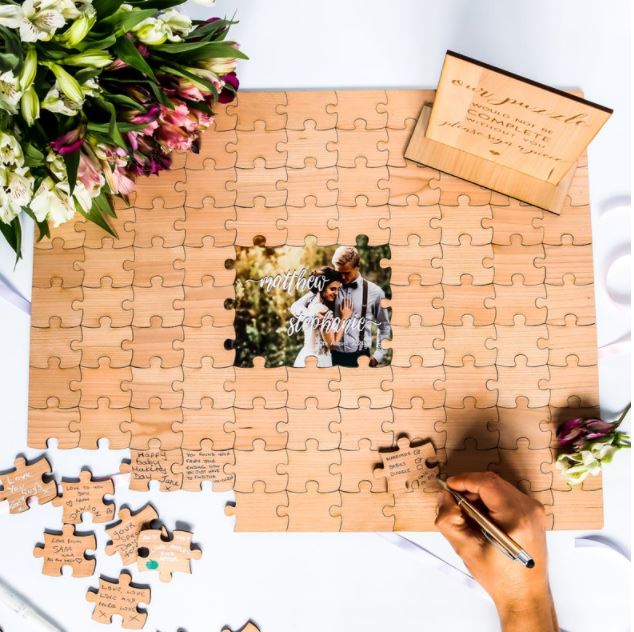 Jigsaw Guest Book
Are you a puzzle kinda couple?
Then you're gonna love this as an alternative wedding guest book.
Again there are a couple of ways of doing the jigsaw.
One option would be to have an A1 size photo of the 2 of you printed. One that's not too dark or colourful.
Maybe one from your pre-wedding photoshoot and have it made into a jigsaw.
If you have 50 guests coming to your wedding, have it cut into 50 pieces.
Take along an A1 size board and paste, or pin,  the first part of the jigsaw onto the board before the guests arrive.
Then your guests can choose a jigsaw piece each, write their message, and add it to the next piece.
Or, as shown in the photo, have a small photo of the two of you in the middle.
You could make that part up before the guests arrive to get them started.
The guests then use the blank jigsaw parts to write their names and messages and add them to the jigsaw.
By the time your last guest adds their piece, you have a complete jigsaw again.
You can then have the jigsaw framed.
And hey presto, a piece of wall art for your home.
Jenga Blocks Guest Book
If you're a games couple, what about having a Jenga set as an alternative wedding day guest book?
A block for each guest to write their name and any wishes.
Each Jenga set has 72 blocks in it; depending on the number of guests, you may need more than one pack.
Leave a sign beside the Jenga asking your guests to sign a block.
Another lovely idea for an alternative wedding guest book.
A wedding guest book that's fun as well.
In the years to come, you can play with this Jenga set and it will always remind you of your wedding day and your family and friends.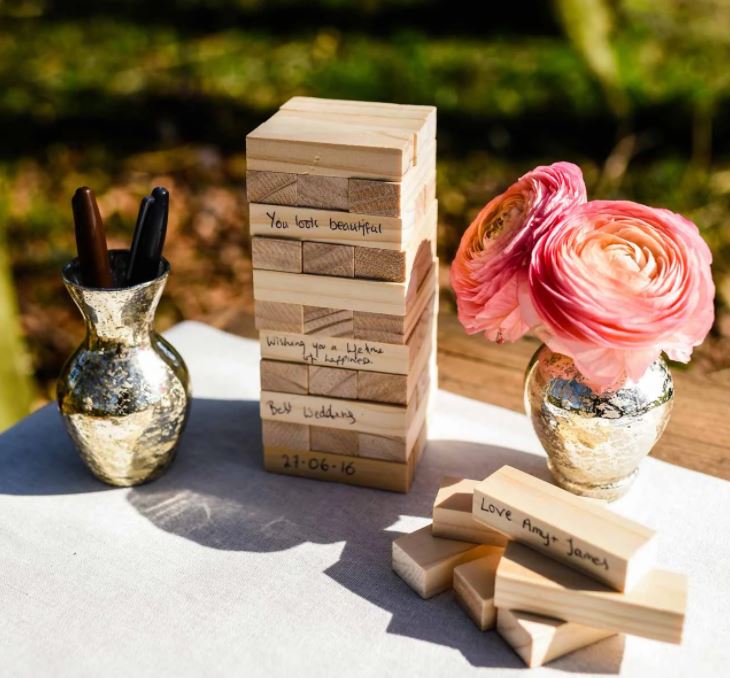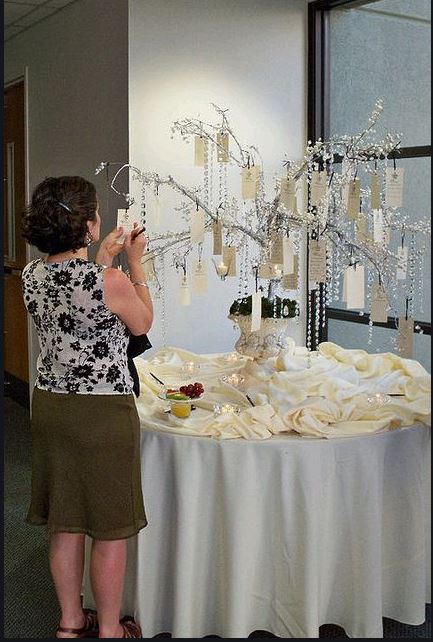 Wishing Tree Guest Book
For the nature lovers amongst you.
How about bringing a bit of the outside inside?
This wedding guest book option does exactly that.
First of all you need to find the right "tree" to decorate.
It doesn't have to be a branch. You could use a potted plant big enough to allow people to put labels on if you prefer.
Either way, have the branch, or the potted plant ready a few days before the wedding. Make sure it's secure in the pot, and take it along to your venue.
Hang the branches with fairy lights or small lanterns. Anything you want to use to make it pretty and stand out.
Prepare some labels, with your name and wedding date on them. But, leave space for your guests to write their names and wishes on to.
Put some ribbons on the labels so that your guests can hang them onto the tree once they have signed them.
After the ceremony, you can collect the labels and put them away in a memory box with your other wedding bits and bobs to look over on anniversaries etc.
Cork Wedding Guest book
Are you wine drinkers?
Have you by any chance saved all your corks from the wine or champagne you've shared over your time together?
Looking for a way to use them?
What about a simple yet effective wedding guest book option that doesn't cost the earth.
But, don't worry if you don't have any saved corks, you can buy new corks on the internet quite cheaply.
You will also need something to hold the corks once the guests have written on them.
What about having a bonnie wee bowl engraved with your names and wedding date on it to hold the corks.
You will also need a pen (or a good few pens if we are still in covid restrictions when you're getting married).
Ask your guests to write their messages on the cork and drop them back into the bowl.
Another little keepsake for your new home together.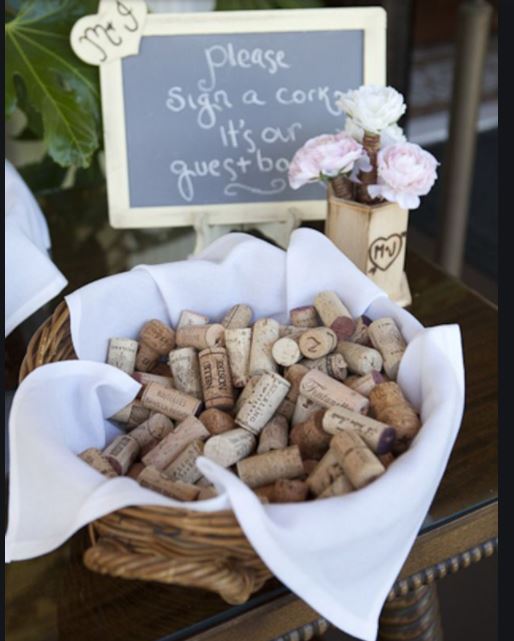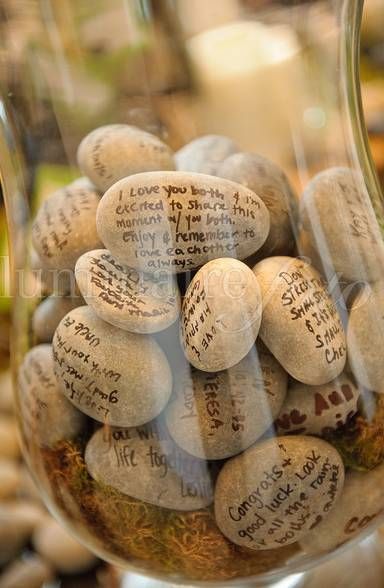 Wishing Stones Wedding Guest Book
Another alternative wedding guest book that won't break the bank.
Especially if you collect the stones yourself, is the Wishing stone wedding guest book.
A bit more of the outside inside!
You can either collect some stones from local walks or pop along to your local garden centre, where you can pick up bags of rocks in various sizes.
If your only having a few guests, then I might be tempted to take a few from your favourite beach.
But I believe it's illegal to take bucket loads of stones from a beach.
And we don't want you starting married life with a record, do we?
Why not decorate a small table and lay the wishing stones out, along with pens for your guests.
Depending on the size of the stone they pick from the table, they can either sign their name or put a few words to you as well.
You will need a container to hold the stones once the guest has signed them. Something suitable for you to take them home in.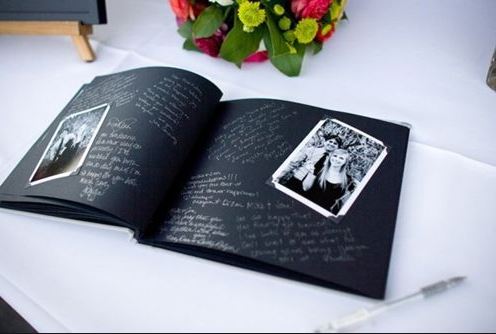 Scrap Book Wedding Guest Book
We've all been to weddings that had polaroid cameras, or disposable cameras, on the table,  and wondered what happened to the photos after the day.
Well, what about getting your guests to make you a scrapbook on the day.
Leave polaroid cameras on each table and ask everyone to take photos, funny or serious, throughout the day and paste them into a scrapbook.
They can then leave a message for you both too.
I've seen some cracking photos in wedding scrapbooks that you know are going to make you laugh for years to come.
On your wedding day, you're so busy; you often miss a lot of the craic that's going on with your guests.
This type of wedding guest book would let you see what they had been up to whilst you were floating between guests.
There are so many fun ways to do alternative Wedding Day Guest Books nowadays they don't have to be the traditional option anymore.
Get your thinking caps on and see if there is a new way you can capture your guest's wishes and names and let's start some new trends.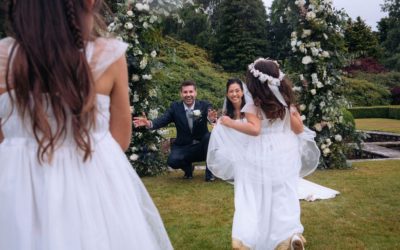 Liz and Matthew Wie WeddingWhen America meets Scotland for Liz and Matthew Wie Family wedding. A beautiful personalised family celebration.Who got married? Liz and Matthew Wie. The venue for their wedding ceremony was the stunning Gordon Castle in Fochabers. On the...