The Unity Candle Ritual symbolizes the coming together of two families in joint love for the new couple
What is the Unity Candle Ritual?
Are you looking for something special to add to your wedding ceremony and wondering what the Unity Candle Ritual is all about?
The Lighting of a Unity Candle during a ceremony is a beautiful ritual that has become more and more common in weddings today.
Why a candle? Well, symbolically, flames are said to represent the love and passion each partner has for the other.
Joining them together is a physical representation of the couple's enduring commitment.
The Unity Candle is a symbolic ritual that also allows inviting family and friends to participate in your ceremony alongside you both.
Couples, now more than ever, are including different rituals and elements into their modern ceremonies.
Symbolic Rituals are ways to make your ceremony unique to you.
The Unity Candle Ceremony is one of those options being chosen, a very romantic action to have in your ceremony.
What do we need for a candle ritual?
You will need three candles for this – one for yourself, one for your partner and a third main candle.
The two smaller candles represent each person getting married.
The couple each light their own single candle and then simultaneously light the main "unity candle" with their candles, representing the joining of their 2 families.
When the main candle is lit, it represents the two unique individuals' joining into one new synergistic relationship.
The merging flames symbolise their unity, strengthened love and shared lives.
There are a couple of options once the main candle is lit:-
They can blow out their individual candles.
Or leave them lit to show that they will not lose their individuality in their relationship.
How can I involve my family in the candle ritual?
Traditionally the mothers of the couple light the candles in the ceremony, but this is your ceremony, your way, so you can change that tradition if you want to.
Each member of your close family could have a candle of their own and light their candle from the Unity Candle once the couple has lit it.
As you leave the ceremony, have your Unity candle at the exit, with tealights for all your guests to light one from your unity candle, making for a wonderful display for photographs.
Another way to include everyone would be for each guest to have an unlit candle as they enter the ceremony.
Someone would light the first candle at the end of each row for that person to then pass the flame to the next person's candle and so on.
The final candle to be lit would light the candles of the couple. The couple would then light the unity candle.
When do we light the candles in the ceremony?
The Unity candle ritual is usually done after your vows.
What kind of candles do we need?
Often couples will purchase candles that match the wedding colour theme.
Some brides have their hennies decorate or make the candles, so they are more personalised.
The Unity Candle is normally a white or ivory candle though.
What about a bad weather day?
As we know, in Scotland, the weather is never guaranteed even for your wedding day, but using hurricane lamps, or at least having them behind the scenes, would help to alleviate some of the wind when its time to light the candles.
There is always a way to work around a Symbolic Action that you would like to have in your ceremony.
A wedding isn't just about the venue, flowers or music anymore.
Including Symbolic Rituals in your ceremony leave your guests with something to remember for a long time.
If using a Unity Candle Ritual is something that you would like to use, drop me a message and let's see how we can fit it into your ceremony.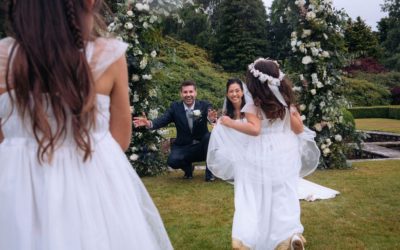 Liz and Matthew Wie WeddingWhen America meets Scotland for Liz and Matthew Wie Family wedding. A beautiful personalised family celebration.Who got married? Liz and Matthew Wie. The venue for their wedding ceremony was the stunning Gordon Castle in Fochabers. On the...