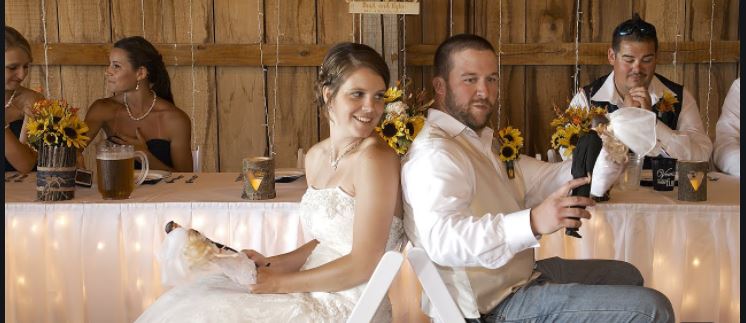 Why not have some fun and laughter on your wedding day with some wedding games.
The pandemic in 2020/2021 has brought some incredible changes in weddings.
We have seen a demise in the more formal type of weddings for many couples.
Today, couples want weddings that are all about having fun.
Celebrating their love with their family and friends, and even their pets.
Many couples are now opting for a celebrant-led ceremony with a party afterwards.
So if you want to have some fun at your wedding party what can you do?
Why not play some wedding games?
Games where you and your partner are up there at the front for some piss-taking.
Are you up for that?
Let's look at some wedding game options you could play at your wedding party.
Games allows all the guests to participate and mingle with each other 
The first wedding day game that springs to mind is the Wedding Shoe Game; this one can be hilarious.
The Wedding Shoe Game is a game that shows how well the couple knows each other.
What do you need to play?
First, you need to have an impartial quiz master who will not tell the couple any questions beforehand.
You got anyone you can trust to do that?
It's another lovely way for one of your friends or family to have a part in your wedding day.
A list of questions such as "who is the more romantic" or "Whos the best driver"?
Questions should be related to the couple, and should all start with "who".
And it helps if the quizmaster knows the couple well.  
You can find lots of suggestions for questions to ask online if you're stuck on ideas. Some of them are hilarious.
But you could also ask family members before the event for suggestions as to what to ask as they will know the couple exceptionally well.
And of course two players,  the couple getting married.
Another wedding day game that's fun is Stand Up, Sit Down.
Favours seem to have gone out of fashion at weddings now.
Or couples choose to buy items from charities like MacMillan and raise money for charity.
But there is another way to raise money for charity at your wedding: by playing Stand Up Sit Down.
What do you need to play Stand Up Sit Down
If you want to play this game at your reception, you might want to pre-warn your guests to bring along some money and provide envelopes on the table to put their donations into.
You might also want to have a prize ready for the last guest standing.  
Something as simple as two free drinks at the bar, perhaps, or a bottle of fizz.
The other thing you will need is a Quizmaster for this game.
Could you give one of your guests that part? its another way to include people in your ceremony isn't it?
How Do You Play Stand Up Sit Down?
Ask your guests to put a donation in the envelope provided; you don't have to specify an amount; leave that up to your guests.
Get someone to collect the envelopes before the game starts, they can be counting the money whilst the guests play, then you can announce the figure and the charity at the end of the game.
The guests should be standing at the start.
And when a question is asked, they will stand or sit depending on their answers to the question.
What Kind Of Questions Would You Ask?
If you're wearing red nail polish, sit down
 If you're wearing perfume, stand up
 If you have two kids, sit down
 If you're having chicken for your meal, stand up
 If your name starts with an S, sit down
 If you're wearing a kilt, stand up
 Anyone not wearing socks, sit down
 If you're not related to the couple, stand up
You can ask anything you want, be a bit adventurous with the questions and have a bit of fun.
You could put a bit of speed into asking the questions and have them bopping up and down at the tables.
The times I've seen this played at functions, it's been hilarious.
Organising a wedding seating plan can be a right nightmare. 
You'd love all your guests to mingle during the day or evening, and get to know each other, but it doesn't always happen, does it?
 So if you're looking for ways to get them to mix, what about playing Minglo as a wedding day game? 
That will get them mingling!
It's bingo by another name, a game where you get your guests to mingle with others. 
The aim is to ask questions to fill in their bingo cards; these little conversation starters can kick start some lovely new friendships too.
For instance, you might think you're the only person who does wild swimming in the room. 
Imagine that conversation when you meet someone else that does it too.
You can swap good wild swimming spots and perhaps meet up for a wild swim together.
What do you need to play Minglo?

 A bingo card like the one here on the blog.
You can make your own on canva with any questions you think would get your guests chatting.
How to play Minglo?
Let the guests eat, get a bit more relaxed, and then get someone to give out the minglo cards and explain how the game works to the room.
The guests then wander between the tables and see if they can find someone at another table to tick off one of their boxes on the grid.
So if you found someone who did wild swimming, you would write their name in that square on the minglo card.
Then onto another person and see if you can score off another one of your grid boxes with them.
Who wins Minglo?
The first person to get 5 in a row, up/down, across or diagonal, and shouts MINGLO, wins.
You could have a prize for the winner. It's always good to have a prize.
And it doesn't have to be an expensive prize, a couple of shots at the bar, a bottle of Fizz or anything else you can line up before the big day.
Another cracking wedding day game for everyone to enjoy.
Name the baby is a nice wedding day game.
Have your guests bring a photo of themselves as a baby.
Arrange to have one of the wedding party pin them on a corkboard as the guests arrive and number the photos as they go along.
The aim of the game is to have people guess who's who in the photos.
Leave some paper under the pinboard and get guests to write their names on the top of the sheet and then who they think the baby is in each photo.
So, for instance, picture number one is Granny Dawson and so on.
At the end of the night, you can have a right laugh giving out the answers.
I've seen this one done at a corporate event it was such a laugh.
There weren't many people that got all the photos matching the names though, but it was good fun.
A wedding should be all about fun and laughter, and if playing some wedding day games helps to mingle the guests all the better.
These are just some of the games you could play on your wedding day at the reception.
But I'm guessing you might have some other wedding day games up your sleeve.  
Care to share any other ones that couples could play? 
What did you play at your wedding reception? More from The Celebrant Angel Blog…
Do I Need A Wedding Album?A way to cherish and relive your wedding day for years to...
read more