A Guide To Choosing Wedding Shoes
'You can never take too much care over the choice of your shoes. – Christian Dior
There are so many decisions to make when it comes to choosing your wedding shoes.
Heels or flats, white or coloured, plain or patterned, funky or traditional.
Have you chosen your wedding shoes yet? Flatties or heels? Or a mix of both?
What are you comfortable in?
I'm a flattie shoe person, someone who would love to be able to wear heels.
I thought I would look at choosing your wedding shoes and tips on being comfortable in them before the big day.
Your wedding day is a day when you're on your feet a lot, so you want to buy wear shoes that you're feet are comfy in.
If you're like me and don't normally do heels, are your tootsies going to be comfortable in heels all day?
Wedding shoes come in a massive range of styles nowadays.
You can still have a slight heel that looks pretty but are comfortable on your feet too.
So my first tip would be don't buy heels if you're not used to them.
Have you bought your wedding shoes yet?
Wedding shoes are the second most important choice a bride will have to make for her attire,
Wedding Shoes Or Dress First?
Well, that depends on what's more important to you, I think.
I'm not a shoe girl, so my dress would be first, then the shoes to suit the dress, but that's just me.
What about you, would you buy your wedding shoes or a dress first?
My daughter had seen her shoes long before she was married and had her heart set on that pair, Kurt Geiger, I might add, no Primark shoes for my girl that day.
Many girls go dress shopping with an idea of what they think they might suit or want dress-wise, but end up with something completely different.
If you've already identified the shoes, will they go with any dress?
If not, it might be best to find the dress first then the shoes.
Try Your Wedding Shoes On With Your Dress
The chances are that you've probably bought the dress before the shoes, so you can't take them along to the dress shopping days.
If you don't have "THE" wedding shoes when you're going for fittings, then at least take a pair with you that has a heel roughly the same height as you think you're going to wear.
That way, there won't be any last-minute worries about the dress being too long or too short.
But once you have the right shoes, make sure that you take them along with you to any dress fittings you need to have.
Breaking In Your Wedding Shoes
Although you don't want the shoes to get ruined before the big day, it's pretty crucial that you break them in before the day.
Wear them as much as you can around the house for a good few weeks at least before your wedding day.
And a great way to make sure you don't mark or dirty your wedding shoes is to get a pair of large socks, your partners perhaps, and wear them over the new shoes.
Many brides will only wear them for a couple of hours before the wedding day, forgetting how long they will be on their feet for that day.  
But start with short periods first, then increase that over the weeks, a bit like training for a marathon.
As you get closer to the date, you want to be confident that you can wear the shoes all day and not get sore feet.
Taking the time to break them in, you will at least know if you need anything to make them fit a bit better, like heel grips or gel cushions.
I usually wear a size 5 in everything, but sometimes I've seen me getting away with a 4 1/2.
Are you the same? Or do you have to go up a size at times?
So, what do you do if that's the case, and the wedding shoes you absolutely must have aren't in your exact size?
Remember, you'll be on your feet a lot that day, so rather than go down a size, I'd go with a ½ size up if that's an option.  
Our feet swell when we're hot and on them all day, so that extra half size will give you a bit of room to play with and keep your feet comfy.
You can always put comfy insoles in if you've had to go up a half size.
Whereas if you go down a size and your feet swell, you're not going to be very comfy.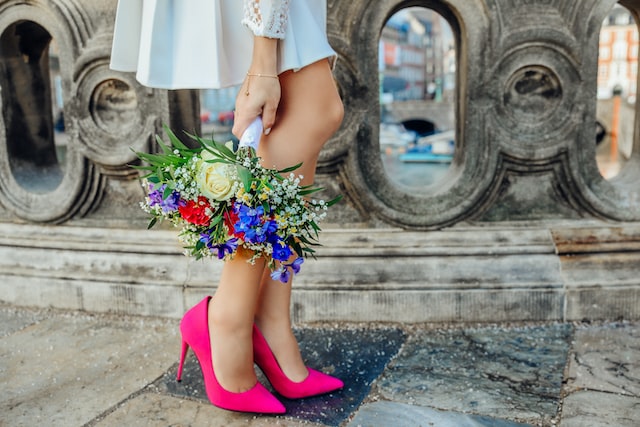 Get A Backup Pair of Wedding Shoes
You may be in love with the wedding shoes that you've chosen for the big day, but I would still suggest a backup pair for the day.
After being on your feet during the ceremony and for your photos, your tootsies might be a little bit tender by the time the dancing starts.
So why not have a backup pair of flatties, or even customised wedding trainers so that you can enjoy the dancing too.
Are you going with white shoes if you're wearing a white dress?
Or will you add a splash of colour into your outfit and go for coloured shoes?
What about customising your wedding shoes?  
Is there a specific colour you want your shoes to be but can't find them?
There are companies out there that can dye your shoes whatever colour you want like Westend wedding boutique in Glasgow 
And even customise them with some bling.
Or if you go for white and want to keep wearing them after the wedding, have them dyed.
That way, they don't lie in a cupboard and can be worn time and time again.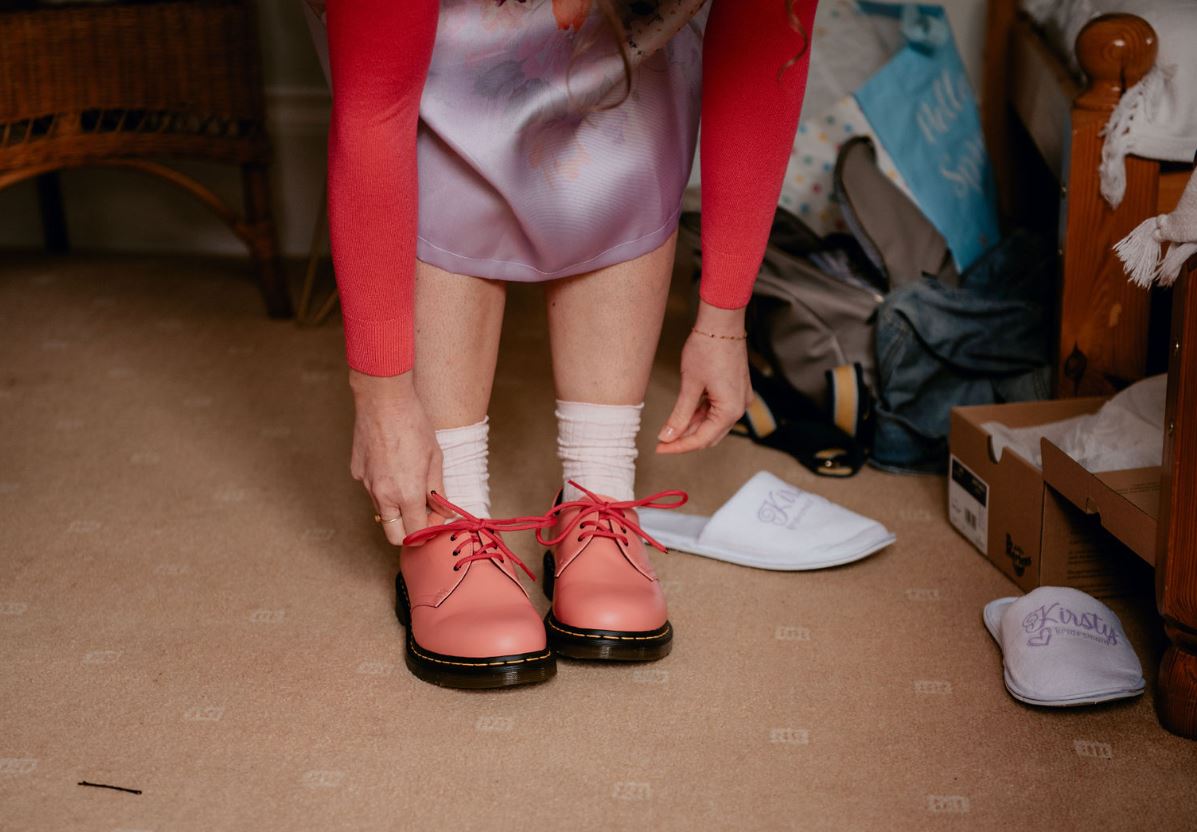 Indoor Or Outdoor Wedding Shoe Options
Are you having an indoor or outdoor ceremony?
Where you're having your wedding can significantly impact which style of shoe you choose for your wedding day.
And the season you're getting married in as well.
It's a sure bet in Scotland it will be either raining, snowing, frosty or muddy in Winter.
Well, it's not just Winter that's like that here, is it?
Have you thought about your footwear for an outdoor or a winter wedding?
Perhaps a stiletto isn't the right heel for an outdoor wedding; a block heel won't sink into the ground. Is that an option?
I have seen some fantastic wedding wellies around that might suit an outdoor wedding.
Is that something that you might have at your wedding?
If your ceremony is outside, but your reception is indoors, you could start with bright wedding wellies and have lovely shoes for indoors.
One last thing to check before you commit to the shoes.
If you're having a wedding ceremony in a venue, have you checked that stilettos are allowed?
I often see pictures of the bride's shoes in the photographer's album, but not many of the bride with her shoes on.
If you've chosen special shoes or customised them for your ceremony and want to have those memories forever, then be sure to ask your photographer to make sure she captures them on your feet as well as when you're getting ready.
Choosing shoes for your wedding is a very personal thing, something you want to take a bit of time over.
I know for some brides it can be difficult to find the perfect wedding shoe and if you're fed up shopping for the right shoe please don't just pick a pair that "will do"
Apart from the comfort factor on your wedding day, you don't want to spoil the look of your dress with cheap shoes either.
And take it from me they will be noticed on the day
If you've already done your shoe shopping how did it go?  Was it love at first sight or did you have to shop around a lot?
Did you get the shoes or the dress first? More from The Celebrant Angel Blog…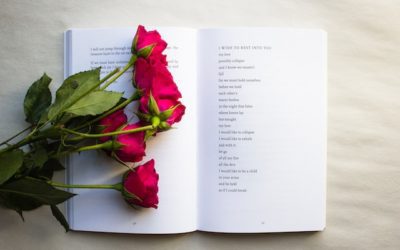 Readings for weddingsA reading sets the right vibe and reflects your personalitiesYour...
read more