Choosing A Wedding Photographer
Wedding photography is important because it will capture your day, it will capture your memories, it will tell a story, and not just any story..
One of the most asked questions about a wedding is "how do I choose a wedding photographer"?
I have some tips below on choosing a  wedding photographer for your ceremony.
Why is it important to invest money in a good wedding photographer?
One of the first things to consider before meeting any photographers is how important are the photographs of your wedding to you?
Photography helps you capture anything you feel is important to remember.
One photograph is powerful enough to not only remind you of an event but can bring you right back to the feelings, sounds, and even smells of the moment.
So many happy memories are made on your wedding day, and having good photographs of the day will give you memories to look over for years to come.
These photos will also be passed down through generations explaining who is who in a family where perhaps not everyone is seen in person often.
Don't shoot what it looks like. Shoot what it feels like.
Choosing A Wedding Photographer
When you start organising your wedding, your wedding photographer is probably high on your list.
This person captures the memories of your ceremony that you will look back on for a long time.
Are You Comfortable In Their Company?
It also helps if you are comfortable with your photographer, so it's important to choose a wedding photographer carefully.
Remember you may have one of the team with you whilst you are dressing for the Ceremony, so you need to feel comfortable in their company.
Although recommendations from family and friends for wedding photographers are always helpful, you may not click with the photographer they used, which is essential, along with skills, packages and prices.
Wedding Photography Styles
When you're choosing your wedding photographer you need to think about what style of wedding photos you want. Have you seen any wedding photography styles that you like yet?
There are a few different ones to choose from.  It's a bit like finding the right dress; once you see the different styles online, you will know the right one for you.
Do you want black and white or a mix of that and colour? Do you want Classic or Candid?
Knowing the style you like will help you to choose a wedding photographer.
Check out wedding photographers online and get some ideas about the different wedding styles before you talk to any photographers.
But they will also be able to guide you on the best styles once they've had a chat to you and understand exactly what you want from your photos.
They are a friendly bunch and love a wedding chat.
Meeting Wedding Photographers
Before finally choosing your wedding photographer, try and meet a few face-to-face.
While chatting with wedding photographers, here are some things to consider and ask.
Do they have galleries that you can look through to see their previous work?
If you are having a winter wedding ceremony, ask to see any winter weddings that they have done before. Do they have any winter wedding photography tips?
You want to get a feel for how they handle the winter weather.
The winter months are darker for a photographer to work in.
Make sure they can handle those conditions. Looking at their previous weddings will allow you to see their skills in taking photos in those situations.
Have they been to the venue you have chosen for your Ceremony?
They will know the best spots for your photographs if they have.
Consider what you might want photo-wise for your day before you go and meet them. This will give them an idea of the timescale of their part in your Ceremony.
The plan doesn't have to be accurate at the first meeting but gives them an idea of your plan. They will have questions for you too, to help whittle down to precisely what you want.
Do they have any client testimonials that you can see?
Or can they put you in touch with previous clients so you can chat with them about their experience with the photographer?
Why not think about doing an engagement photoshoot with them. This would allow you to work with the photographer you like—an opportunity to build that trust before finalising your wedding photographer.
Wedding Photography Packages
Photographers usually have different packages for wedding ceremonies.
They may advertise a fee on their website, but depending on what options and coverage you want, these may well be different.
If you are working on a tight budget, a good photographer can work within your budget and advise you on what is achievable within that budget.
A professional photographer's costs are higher because they have the right equipment. Have done the proper training and have the software that a dedicated wedding photographer needs.
They invest a lot of time and money in PR, getting their name out there and building their reputation and perfecting the skills that they offer to the public.
Therefore their prices reflect the level of experience they have in wedding photogra
What About The Costs Of Wedding Photography
Costs play a big part in choosing a wedding photographer. But your photos are one of the crucial things to get right.
Although the price is essential, don't pick your photographer based on price alone.
It takes a photographer a lot of time, skills, and equipment to capture the right photographs for a Wedding Ceremony.
Is there somewhere that you could save money elsewhere in your Ceremony, giving you a little more for your photographs?
Choosing a photographer is a large part of your budget, but well worth spending the extra money to ensure the wedding photographer you choose captures your day in the way you want.
Using a friend of a friend to take the photos may save you money but won't give you as good a quality photo as an experienced photographer can.
For instance, they won't know where to stand to get the best photo of you saying I DO. Or have the right equipment to deal with any situation during your Ceremony.
For instance, the weather can greatly change the equipment needed to capture the image.
If you pay a minimal fee (or nothing at all), you should be prepared to receive images that match that cost level.
This is why I asked how important it is to capture the right images.
If it is imperative, pay for the person with the right skills and software, and you will have photographs that last forever.
In my life experience, you get what you pay for.
Other Questions You Might Want To Ask A Wedding Photographer
When choosing your wedding photographer you may already have lots of questions to ask of them. But below are some that you might want to include when speaking to them.
What format do you get your wedding photographs in?
Is a Wedding Album included in that price?
How many photos are in your package?
Do You Want One Photographer Or Two?
Your wedding photographer will ask you this question at your first meeting.
There are no rules that you have to have 2, so don't feel pressured into paying for 2 if you don't need them.
Perhaps you are having a small intimate wedding; therefore you might just want them to be there for the Ceremony, then leave.
Benefits of having two photographers at your wedding.
There are big benefits to having two wedding photographers.
Having two will allow one of them to focus on you, the couple, as you get ready for your ceremony.
The other to capture guests arriving and all the details that you won't see as you will be getting ready.
Both photographers will then capture photos during and after the Ceremony, leaving you safe in the knowledge that all of those beautiful candid shots and details are documented.
The gap between the ceremony ending and seeing your guests for dinner is normally only about an hour, so having two photographers will mean you are not away from them for too long.
Letting you get back to the party.
Wedding Photo Opportunities
Be led by the photographer on some of the capture options, especially if he has been at that venue before.
If he has been there previously, he will know what works and what doesn't.
Many brides use Pinterest today for what kind of wedding photos to take. If there are any that you particularly like, take them along with you and show the photographer.
He will be clicking away unnoticed by you throughout the whole "getting ready" process, and often when you review the photos after your ceremony, there will be some that take your breath away.
Ones that you never noticed him taking.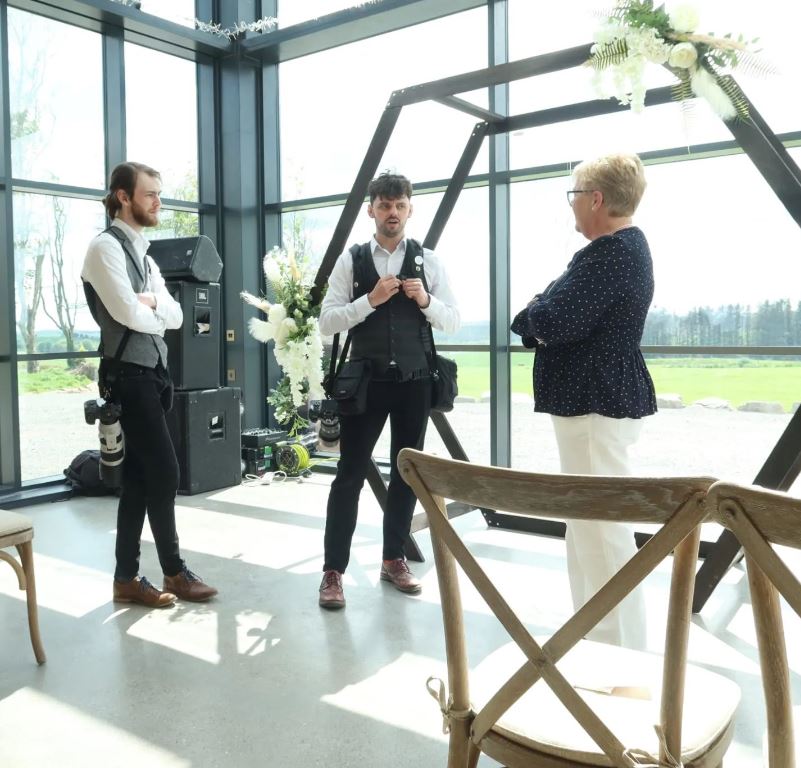 T&Cs are another important factor.
Ensure that you double-check what you are signing before you agree to the T&C's.
In fact, this applies to all your vendors for your Ceremony.
If the Covid 19 has taught both couples, and vendors, anything, it is to make sure your T&C's are watertight and you each understand what the other is liable for.
What do their T&Cs say about unforeseen events like COVID-19, for instance?  What are you liable for in those instances?
What are the guidelines for rescheduling your wedding for any reason? Can you reschedule the date without costing you any money?
What happens if you cancel the wedding?
Have you lost all the deposit?
Will you have to pay the whole fee if cancelling is last minute?
And what are the payment terms?
Check with them when the deposit needs to be paid.
And how long before the Ceremony do you have to pay the final amount?
Wedding photographers Insurance
Make sure they have insurance; all good photographers will have this.
God forbid anything were to happen that you needed to claim from your own wedding insurance. If your photographer doesn't have his own insurance, this may cause you problems.
They should also be capable and qualified to carry out the work (especially if you pay them handsomely for the photos).
So for peace of mind, go with a well-established, experienced photographer who will know what to do and how to do it well about your photos.
There are some things we never want to think about planning a wedding, but there are some important ones, and you should check with your vendors what contingency plans they have in case of any "surprises".
If you plan accordingly, you can avoid a nasty surprise further down the line.
Ask your photographer what plans he has in place should something unexpected happen to them on or before your big day.
Do they work with or associate photographers for instances like this?
As we all know, accidents can happen to anyone.
SO knowing that your photographer has a network of wedding photographers to contact "just in case" and step in to save your ceremony is incredibly helpful.
And the last piece of advice…  follow your gut, if you like them and feel right for you, then get that box ticked.
Hopefully, these tips on choosing a wedding photographer will help you find the right one.
Don't be scared to ask questions; try a few for size, and see which person you click with.
Much like choosing your wedding celebrant, they are an important part of your day and you want to gel with your photographer to. More from The Celebrant Angel Blog…
Do I Need A Wedding Album?A way to cherish and relive your wedding day for years to...
read more