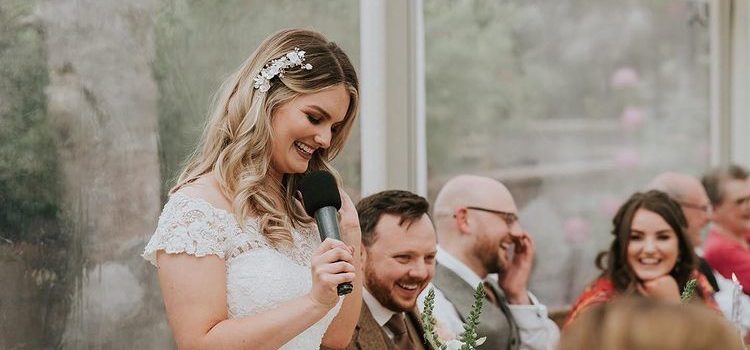 Should A Bride Do A Wedding Speech
Wedding speeches are still a traditional part of weddings, even the modern ones. So the subject of a bride doing a wedding speech is sometimes a bit controversial, but it needn't be.
The wedding speeches are where the bridal party get to thank their guests for coming and share some of their feelings about each other on this special day.
Why do we look forward to hearing the speeches? 
Well, we're always wondering:-
Is the best man going to land the groom in it?  

Will  the speeches be funny or serious?  

Are there going to be tears?
The best wedding speeches tend to stay in our memories for a long time after the wedding; some even make it to the likes of youtube they are so good.
Turn tradition on its head, and include a brides speech in your wedding ceremony.
Traditional Or Modern Speeches
Are you a non-traditional couple that wants to do things differently at your wedding?
Well, what about the bride giving a speech? You up for that?
Tradition says it's the Groom, Father of the Bride and the best man that generally makes the speeches at a wedding. 
And whilst there's nothing wrong with tradition, it doesn't have to be that way for your wedding day.
Many couples are ditching old-fashioned traditions at their weddings these days, so why not up the ante at yours and let the bride give a wedding speech too.
Over the past few years, as things have changed within wedding ceremonies, many brides have already celebrated the new tradition of the bride making a speech. 
You may even have been to a wedding already that had the bride giving and speech. Did you enjoy it?
Is it something you would do?
According to statistics from a survey, only 16% of people believed that a bride should give a speech, and 51% thought it should stay with the groom.
Well, why not have both?
Just because you want to do a speech doesn't mean the groom doesn't get to have his chance to; there are no rules to say you can't both do a speech.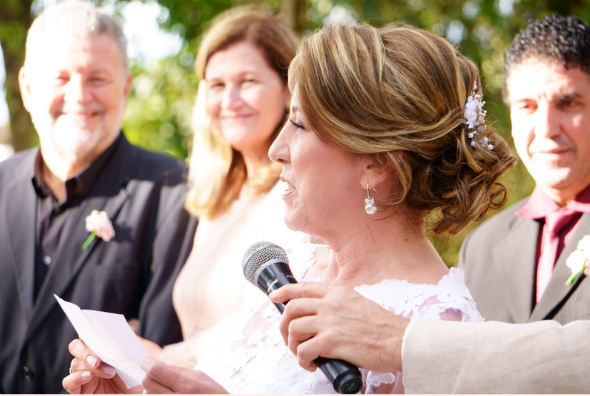 Why Would A Bride Do A Speech
There are many reasons why a bride might choose to do her own speech like:-
Your partner isn't comfortable doing speeches, and you are.
The bride gets to say her own thank yous to both families, guests and the wedding party.
The speech part of the ceremony can be used to give out the wedding party gifts, such as the mothers of the bride and groom.
The bride gets to give their view of the day and the lead up to the wedding from a female perspective.
It's a cracking way to surprise your guests.
The groom's speech typically compliments the bride, so why not do that back.
Give at least one story about you and your partner, how you met, his chat-up line, for instance. What do you love about him?
Who Would Do The Wedding Speech First
I don't think it matters who goes first.  
But, if you want to keep a little bit of the traditional, then let the groom go first; you might find something in his speech that you could elaborate on in your wedding speech.
If you're one of those confident brides, you might want to wing your speech on the day, but if not, then make sure you practice before the wedding day.  
Get it written down and practice with your MOH; see if she has any suggestions for improvements or in case you've missed anyone of your thank yous.
Tips For Doing A Wedding Speech
Before you start making your speech, take a few minutes to prepare yourself.
Take a few deep breaths; you might have had a little bit of dutch courage by now, which might help.
Look around the room, making eye contact with everyone.
Leave pauses in your speech; maybe you've cracked a joke; give your guests time to appreciate the joke and laugh along with you.
Take your time and talk slowly. There's no rush.
Keep it brief, and Make it fun!
Celebrants use a script on a wedding day. 
We practise the script before the wedding ceremony, but there is always a bit of ad-lib that pops in.
It doesn't have to be read word for word, keep yourself relaxed, and it will come out naturally. 
And everyone loves a bit of ad-lib where they can do a bit of heckling.
Unlike the groom's or father's speeches, which have rules around what to say, there are no such rules for a bride's speech; how awesome is that.
Whatever you are planning for your big day, remember that your wedding ceremony is all about the two of you. 
So discuss with your partner if you're thinking of doing a bride's speech and then run with it. 
Or will you make a speech and keep it a secret from your partner? I might like that idea if I was getting married.
There is a time and place for tradition if you want it, but it is also entirely your prerogative to completely ignore all of it and have the wedding day you want.
Step aside, grooms; it's time for brides to have their say. More from The Celebrant Angel Blog…
Do I Need A Wedding Album?A way to cherish and relive your wedding day for years to...
read more