What To Ask A Wedding Cake Maker
Sweet Success: Top tips for Choosing the Perfect Wedding Cake
Choosing your wedding cake is another important decision in the wedding planning process. And if you want to get the wedding cake of your dreams, its key that you ask your cake maker lots of questions.
There are lots of things to consider when choosing the right cake for your wedding
Don't be scared to ask your wedding cake maker questions.
They will be delighted to answer them as they know how important getting the cake just right is for couples.
Good luck choosing the right flavour!
As part of the nuptials, the groom broke bread over the bride's head.
How Do You ChooseThe Right Cake Maker
Firstly who do you choose to make your cake?
Ask for recommendations from friends or family who recently had a wedding cake you liked.
Have a look around locally and see who is available.  Check out their websites or social media sites.
Check out Pinterest too. There are some fantastic-looking cakes on there and it may give you an idea of what style of cake you want.
Get your options together of what it is you like and take them along to show to the suppliers.
If they have an idea of what you are looking for, they can advise if it's a design they can do for you.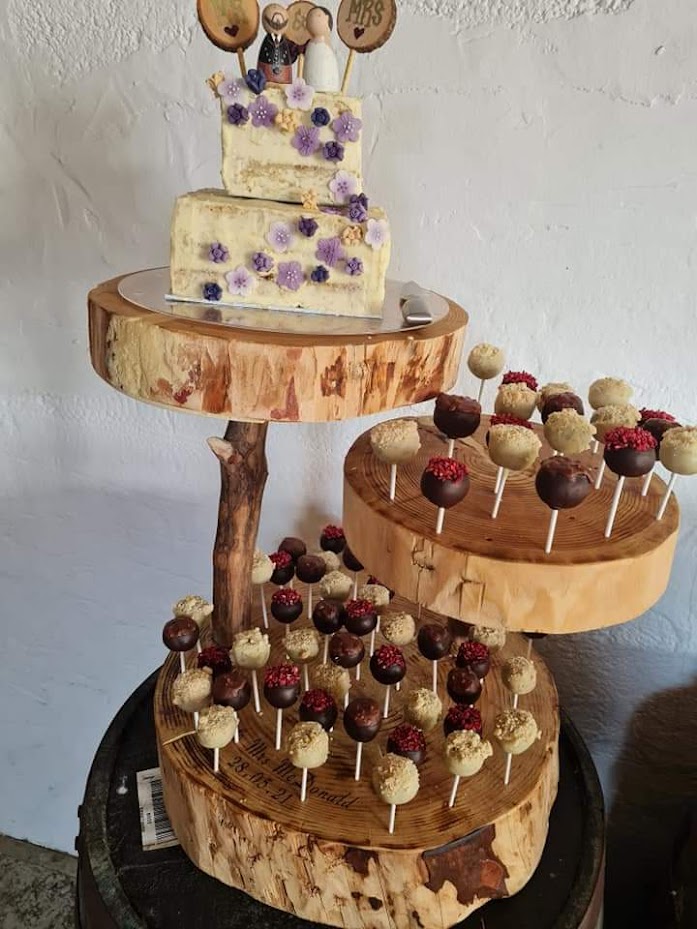 Are They Free On Your Date
One of the first questions you want to ask your wedding cake maker is, are they available for your date?
There's no point in asking all these questions if they aren't going to be free, is there?
Ask Them About Their Business
Knowing about their business and how long they have been making wedding cakes is always good.
So here are some questions to ask a wedding cake maker about their business.
How long have they been in business?
Do they have the appropriate health and hygiene certificates?
How many cakes do they make in a year, can you see some photos of previous ones?
Do they have any client testimonials you can see?
Do they have a particular style, layered or tiered for instance?
Are their cakes custom or do you choose from set designs?
Today with many people allergic to certain things, it's important to know your guest's allergies before you agree on the content and style of your wedding cake.
So perhaps ask that question from your guest list before you confirm your cake.
But it's good to know upfront what allergies the cake maker can cater for if need be.
Do they offer organic, vegan, gluten-free, dairy-free, and nut-free options?
What Flavour Wedding Cake Do You Want
Over the years couples have moved on from the traditional heavy fruit wedding cake and are now looking for something a bit lighter that caters for everyone's tastes.
So another question to ask a wedding cake maker is all about the flavours.
What are your choices for fillings?
What flavour can you have in your sponge? Can they do different flavours per layer, for instance?
Can you have a tasting session before you choose your cake?
What About The Cake Decorations
I have seen some amazing cakes, decorated in all different kinds of styles, some you don't' want to eat they are so pretty.
Deciding on how your cake is decorated depends on the style you choose.
If you go for the popular "naked" cakes, they tend to be quite "naked" with the bare minimum decoration, but you may prefer something a bit more decorated.
So here are some more questions to ask a wedding cake maker about the decoration side of a wedding cake.
Do you have to have buttercream or icing?
What other options are available if you don't want either of them?
Do they use fresh flowers to decorate the cake or sugar edible flowers?
If I want fresh flowers do you provide those or your florist?
What about any toppers, can they provide them or do you have a supply of them?
The Nitty Gritty Cake Questions
I never had a fancy wedding cake when I got married, so some of  the questions I would want to ask a wedding cake maker would be:
How big should our cake be to feed (number of guests here)
How far in advance do you need to book them to make your cake?
Do they have a charge for designing your cake if it is bespoke to you?
Will you see a drawing of your cake before they start?
And how close to the wedding is the cake made?
What is included in the price of the cake, is it priced per layer or whole cake
Do they need a deposit? How much is it?
When do they need the deposit and when is the final payment due?
Do they have a cancellation policy in case you have to cancel?
And there are some questions you need to ask about the wedding day like:-
Do they deliver your cake to the venue? Is there a charge for that?
If they do, how long do they need to set it all up on the day?
If you have to pick it up from their premises, does the cake come packaged?
What happens if the cake is damaged in transit to the venue if they are delivering it?
Is the knife for cutting the cake provided by them, or is that usually the venue?
Are cake stands provided to display the cake?
Do they provide boxes for you to take home any leftover cake? Is there a cost for that?
What The Cake Maker Will Want To Know
Just as you have questions to ask a wedding cake maker, they will have some for you too.
The questions below will help them gauge if they are free to make your cake and give them an idea of what the cake will cost you.
How many guests is the cake for?
Where is your venue?
What time is your wedding and what date?
Do you want the cake's table to be decorated in any way, are you doing that or them?
How many tiers do you want?
What is your colour theme? Do you want the cake to match those?
Is the wedding indoors or outdoors?
A wedding cake is a centrepiece on your wedding day, positioned where everyone can see it.
Take your time and check out a couple of wedding cake makers before you agree to "the one"
These are some of the more important questions to ask a wedding cake maker, I'm sure you will have some of your own too. 
Make sure you jot everything down before you meet with a wedding cake maker, that way you won't forget your questions More from The Celebrant Angel Blog…
Do I Need A Wedding Album?A way to cherish and relive your wedding day for years to...
read more