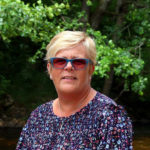 Wedding Community Vow Of Support
 A marriage needs the support and love of a community. 
Are you looking for ways to include family or friends, or both, in your wedding ceremony?
I have something that you might like that involves all of your guests in your ceremony.
A wedding community vow of support!
Us celebrants love to find ways to help you include your friends and family in your wedding or vow renewal ceremony.
And I think a Wedding Community Vow of support is a lovely way to do that.
A Community vow is where we ask your guests to be part of your ceremony with a vow of their own, back to you.
A vow of support for you, the couple.
As a celebrant performing your ceremony in front of everyone you love, I can always see and feel the love oozing from your guests towards you both.
Wouldn't it be lovely to ask them to show their support by all of them making a vow together for you both?
Imagine hearing that resounding YES or We Will echoing back to you.
Knowing that you have the support of family and friends can make a difference and can also help to strengthen your vows.
And there are a couple of ways to make a wedding community vow of support.
You have the choice of where to fit it into your ceremony, before your own vows, or after.
Intimate Wedding Community Vow.
In a smaller intimate wedding, you could ask each of your guests to bring along a vow or a promise that they would like to recite to you during the ceremony.
They would stand and repeat it back to you during the ceremony.
This way is best in a smaller gathering as it can take up a bit of time.
Larger Wedding Community Vow
If your wedding party is more significant, then a group vow might be the best option.
A communal vow would be something along the lines of:-
Ladies & Gentlemen, A and B have demonstrated their belief in their love and their desire to live together in marriage in your presence today. If you also believe in their love and you wish to add your blessing to their marriage today, please respond now by saying, we do."
Or
Family and Friends, now that you have heard A and B recite their vows, do you, their family and friends, promise, from this day forward, to encourage them and love them. To give them your guidance. And to support them in being steadfast in the promises that they have made? 
If yes, please say, "We do."
But like your own vows, they can be anything you want.  
Why not give one of your wedding party the job to find the right vow for your guests to say.
I would, of course, coach your guests in what we  expect from them before you arrive for the ceremony.
It wouldn't look good if we didn't warn them and some shouted, we will, or yes or we do would it?.
As with all ceremony rituals, a community vow of support can be built into your ceremony in any way you choose.
Is there a vow that you would like your guests to say to support you with a Community Vow?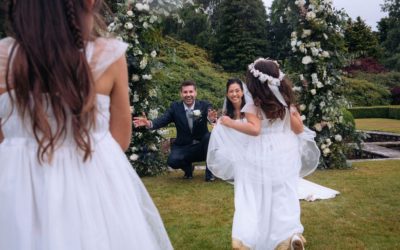 Liz and Matthew Wie WeddingWhen America meets Scotland for Liz and Matthew Wie Family wedding. A beautiful personalised family celebration.Who got married? Liz and Matthew Wie. The venue for their wedding ceremony was the stunning Gordon Castle in Fochabers. On the...