Symbolic Rituals or Mini Ceremonies are beautiful and fun ways to create a visual expression of love and commitment as well as being wonderful ways of including family and friends in your wedding ceremony, naming ceremony or vow renewal.
Remember all rituals started somewhere, something a couple wanted to include in their ceremony, so if you have something you want to include lets make a new ritual just for you.
Mary was fantastic at finding the right words for the Ceremony; she suggested readings and poetry that we were not aware of, which made the ceremony even more special
I would have no hesitation in recommending Mary as a celebrant for that special occasion; she is calm, reassuring, happy and confident.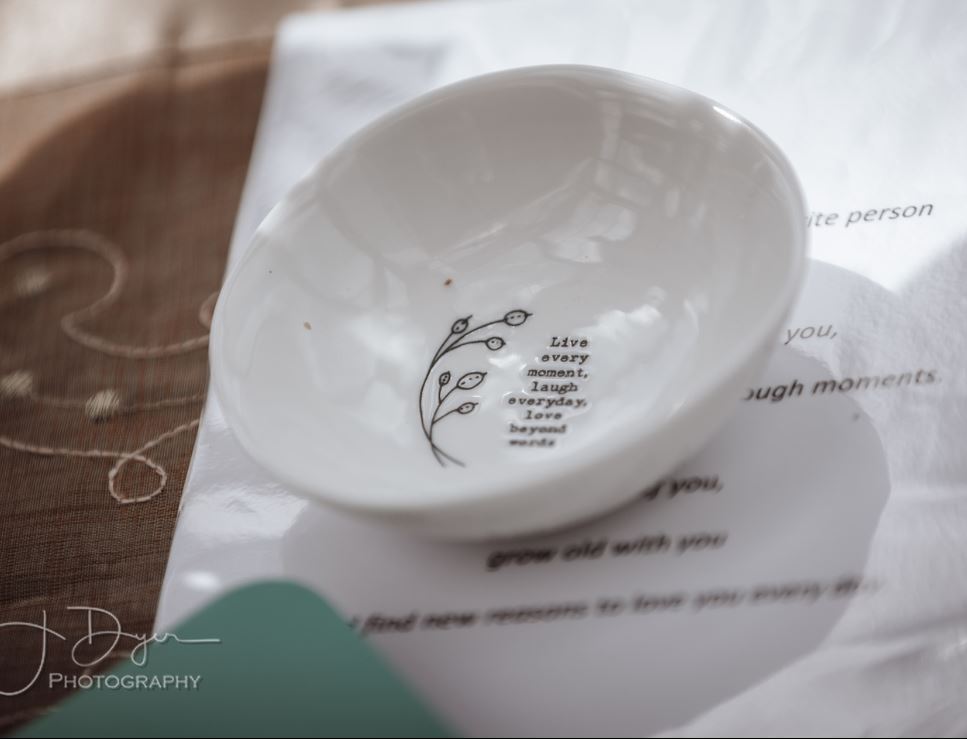 What is a Ring Warming Ritual?
A popular symbolic ritual for wedding ceremonies or vow renewals is a ring warming (or ring blessing as it is also known).
It is a beautiful way to include your guests, allowing them to feel part of your big day. 
I particularly like this one, as it is a special way to include all, or some, of your wedding guests in the actual Ceremony.
Your wedding rings are passed around your guests from hand to hand (there are a couple of ways to do this). They then mentally fill the rings with their love and blessings.
By the time the rings return to you to exchange, they will have filled them with powerful energy.
You can then also choose to have a blessing read by your Celebrant before exchanging the rings.
What is a Tree Planting Ritual?
A tree-planting ceremony is an ancient Symbolic Ritual regularly performed during family Ceremonies, much like a Unity Candle or Hand-fasting ritual.
Symbolic Rituals are often used in wedding ceremonies to symbolise couples and their families becoming one.
The Tree Planting Ceremony fits well today with couples looking for eco-conscious practices to include in their ceremonies.
Why are trees used in a ceremony?
A tree grows by taking root, growing and flourishing, much like a relationship.
While most tree-planting ceremonies occur at outdoor weddings, it's also possible to conduct them indoors.
It doesn't have to be a tree if you're doing it indoors; it could be a shrub or a potted plant.
Choosing which tree to use in the ritual is down to personal choice, but it's interesting to look up the meaning of the tree you've picked.
Like many Symbolic Rituals, Tree planting also allows you to include family or friends.
There are so many symbolic rituals to choose from I'm sure you will find one to fit your ceremony perfectly.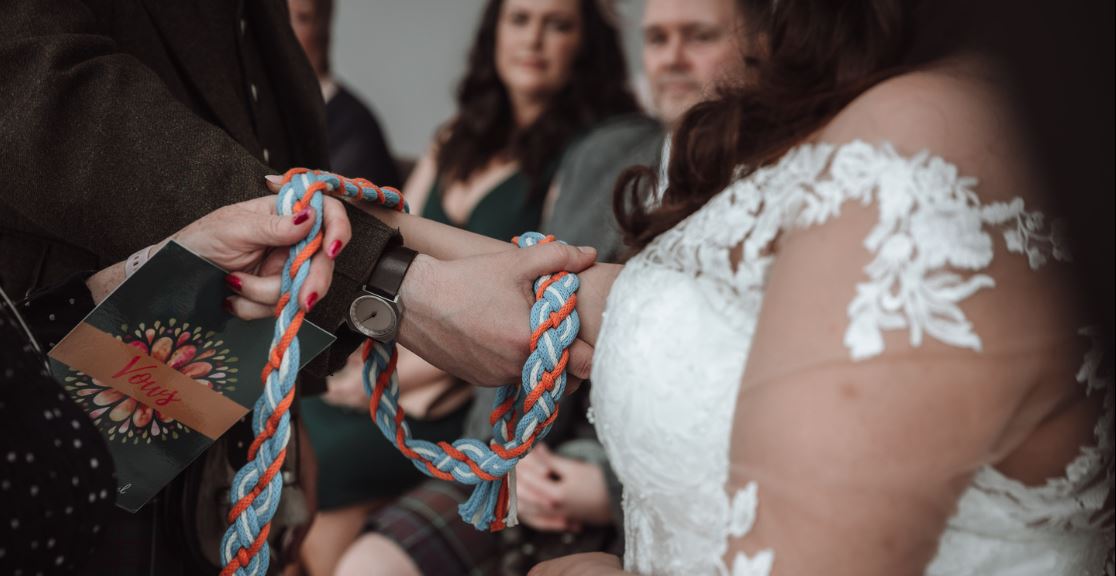 What is a Hand-Fasting Ritual?
Hand-fasting is probably the one symbolic ritual that has proved the most popular over all the other rituals over the last few years.
It involves quite literally tying the knot and comes from Pagan wedding ceremonies. Tradition saw it used by couples promised to each other, an engagement of sorts, without the ring.
Hand-fasting is a symbolic ritual that involves joining the couple's hands and wrists so that the pulse points are together.
The wrists are tied together using vines, ropes, cords or ribbons, tied up into a knot. And because each couple uses different options for their ties, every hand-fasting is as bespoke and personalised as the fabric that is used.
The ties can be wrapped as many as six times around the wrists; some couples choose to repeat a vow for each wrap.
It is thought that this is where 'tying the knot' came from.
Usually, during the wedding ceremony, you do this as a promise from one person to the other to bind their lives together.
You can add further meaning to your hand-fasting by putting some thought into the material you would use for the ceremony.
For example, if you still have the clothes you wore for your first date, a strip of fabric from them would be a perfect addition to the ceremony; or if your parents have something from their wedding, it might be nice to include that.
There are various kinds of knots to tie the ties with—for example, an infinity knot, fisherman's knot and trinity knot.
Each knot has its own meaning, so, symbolically, one may suit you more than the others, so it's worth looking into if you enjoy the potential for levels of meaning in these types of ceremonies.
What is Jumping the Broom?
Another popular symbolic ritual at wedding ceremonies or vow renewals right now is Jumping The Broom.
Originating as an African American tradition,  that came about when slaves weren't permitted to marry and instead jumped over a broom as a way of ceremonially uniting.
It also has roots in the Celtic culture.  The broom's straws represent family, the handle represents a higher force, and the ribbon tying them all together is what binds the couple together.
The idea is that as the couple jump over the broom, they physically and spiritually cross the threshold into matrimonial bliss.
It marks the beginning of building a home together and symbolises the sweeping away of the old and the welcoming of the new.
Jumping the Broom can be carried out during your wedding or vow renewal ceremony, normally as your ceremony finishes, or you might choose to have it as you enter your reception, symbolising leaving behind your single life and leap into the room, ready to begin life as a married couple.
A Lovely symbolic ritual to start a new life together.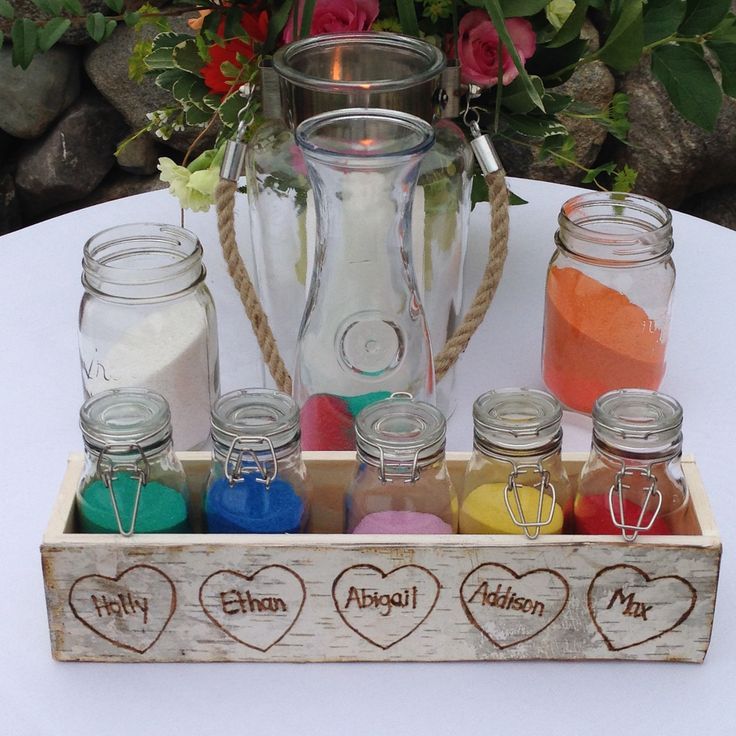 What is a Sand Blending Ritual?
Sand blending is a symbolic ritual often used in Couples Ceremonies and Naming Ceremonies.
Sand Blending is a super simple, yet significant symbolic ritual centred around two becoming one in a Couples Ceremony or families joining as one in a Naming Ceremony.
The couple/families mix different sand colours into one vessel, one for each of the participants, symbolising their lives and hearts coming together. Sand cannot be un- blended ever again, thus showing the coming together of the couple; they become inseparable.
It's an adorable one for couples with children to do, as you can get your children involved in pouring their own sands in. 
Or if you'd prefer, you could get other members of your extended family involved, all with the idea that it's symbolising two families coming together.
As well as the lovely sentiment, if you choose a beautiful vase to pour your sands into, you will be left with a gorgeous keepsake after the wedding.
A Unity Candle symbolic ritual is a way to make your Ceremony more personalised and include friends or family in your Ceremony.
The Unity Candle Ceremony is one of the popular symbolic rituals. It is quite a romantic one.
If it were just two doing a Unity Candle, you would need three candles for yourself, one for your partner and a third 'main' candle.
The smaller candles represent the couple getting married.  Who they are today, and what and who make them who they are today.
When the main candle is lit, it represents the two unique individuals' joining into one new synergistic relationship.
The couple each light their own single candle and then together they light the main one with their candles, at the same time.
The merging flames symbolise their unity, strengthened love and shared lives.
To include family or special friends in the Ceremony more candles would be lit from the main candle.  This is a good way to include children into your Ceremony.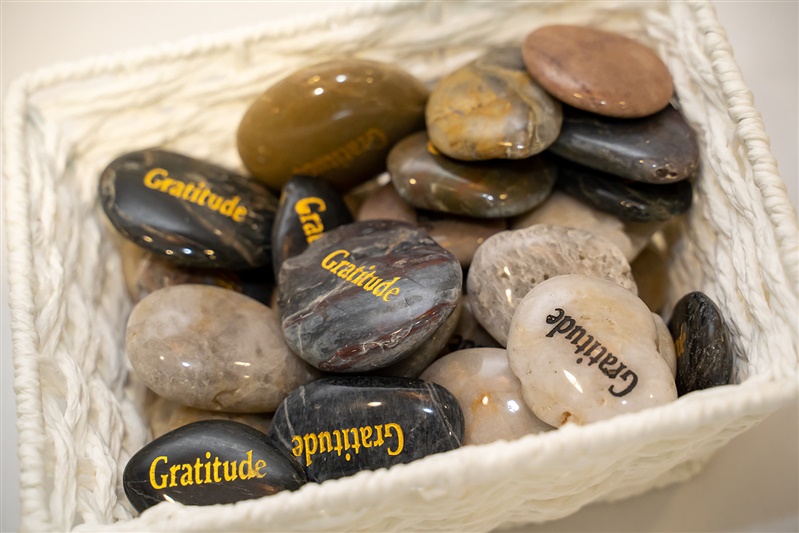 What is the Oathing Stone?
For those of you not familiar with this Scottish tradition, it is when the couple either hold or put their hands together on a stone as they repeat their wedding vows to each other.
A Scottish symbolic wedding ritual from way far back in history, before wedding rings came about.  One that showed a couples commitment to each other.
Their ancestry was important to the Celts. They believed that the spirits of their ancestors lived on in the rocks, earth, sky, and water all of which surrounded their homeland.
Collecting your stones can be a personal and fun part of the lead up to your wedding, although you would need to have them before the actual ceremony
Like the Ring Warming ceremony, your guests can take part in The Oathing Stone Ritual too.
What is a
Cocktail Ceremony?
Why not make a cocktail together during your ceremony, a bit like the Quaich option but perhaps a bit more you.
A wedding cocktail ritual can add that extra bit of fun into your ceremony and is becoming popular with couples for their weddings.
When two lives are blended and blended correctly, you take the rough with the smooth, the sweet with the bitter, the heat with the cold.
Blending your cocktail, whether that's shaking it or stirring it, represents the two of you joining together in your ceremony.
A cocktail ritual can be so much fun at a wedding, and there are many ways to include it in your ceremony.
Want more rituals?
You'll want to read these…
You are bound to have questions about the possibilities for your ceremony… try reading some of my blogs for more information and answers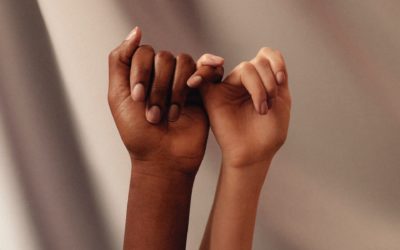 A Pinkie PromiseA pinkie promise is a little way to make your wedding ceremony that little bit different, do a pinkie promise with each otherI bet you did this when you were young; you might still do it now with your kids. If you've never seen or done a pinkie...
Get in Touch
Whether you want to call, email or fill out a form - it's all here...
My Location
Westhilll, Aberdeen. AB32 6QX